World news story
British Minister of State for Defence visits India
The British government's Minister of State for Defence Procurement, Philip Dunne MP, will visit New Delhi on Thursday 18 February 2016.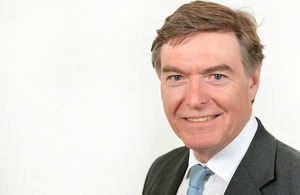 Mr Dunne will meet the Indian Defence Minister, Manohar Parrikar to further boost the UK and India's defence and security partnership following Prime Minister Modi's visit to London last year.
Mr Dunne said:
Last November our Prime Ministers set out their vision for a more strategic defence and international security partnership. The UK and India face many similar strategic challenges so we need to work even more closely together. In order to take our defence relationship to the next level we are establishing capability partnerships to structure our cooperation on strategic capabilities across principal aspects of military effectiveness. I am here to progress this initiative together with the Indian Defence Minister and to hear from different parts of the Indian defence community.
Mr Dunne will also participate in a roundtable discussion, organised by the United Service Institution, discussing the strategic defence partnership between the UK and India.
Further information:
Defence Collaboration:
During Prime Minister Modi's visit to the UK in November 2015, the UK and India agreed to deepen defence and international security partnership across military capability, counter terrorism and cyber, as well as consolidating strong cooperation that exists already in many areas of defence and security.
The UK and India will elevate their defence relationship by establishing capability partnerships in strategic areas, through which both the countries will work together across the spectrum of doctrine, training and other elements upon which military effectiveness depends. These partnerships will enable support to 'Make in India' and transfer of strategic capability between the two nations, including defence technologies and manufacturing in areas of mutual interest.
In support of India-UK technology capability partnerships, the two countries are set to develop research into new areas and progress their defence science and technology collaborative projects.
Strategic, defence and international security:
The UK has always been resolute in the defence of liberty and the promotion of stability around the world. It plays a leading role in the world whether it's by saving lives in the Mediterranean, training the Iraqi army, Afghan officers or flying patrolling missions over the Baltic. The UK also leads in providing humanitarian assistance in response to typhoons, tsunamis or earthquakes or medical emergencies such as Ebola.
Philip Dunne's CV
For media queries, please contact:
Stuart Adam, Head,
Press and Communications
British High Commission, Chanakyapuri
New Delhi 110021
Tel: 44192100; Fax: 24192411

Mail to: Upendra Singh
Follow us on Twitter, Facebook, Flickr, Storify, Eventbrite, Blogs, Foursquare, Youtube, Instagram, Vine, Snapchat @UKinIndia, Periscope @UKinIndia
Published 17 February 2016