British laboratory Vitabiotics donates products for nutrition recovery centre in Guatemala
Drogueria Italiana, Guatemalan representative of British lab Vitabiotics, fulfilled the commitment made on 11 September, and delivered a donation of vitamins for children and pregnant women who are served by the Nutrition Rehabilitation Unit (NRU), as part of the actions implemented in the Zero Hunger Pact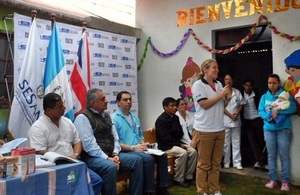 The donation, valued at £10,000 approximately (Q125,000) will provide 700 treatments to serve 500 children and 200 pregnant women with Feroglobin B12 (iron and multivitamin) and Wellkids (multivitamin with Omega 3). The representative of Drogueria Italiana, Edgar Rodolfo Grisolía said: "We are honoured to be contributing to the fight of reducing hunger in Guatemala".
This donation comes as part of the joint efforts undertaken by the British Embassy in Guatemala and the Secretariat for Food Security and Nutrition (SESAN), which organized a breakfast at the residence of the Ambassador, Her Excellency Sarah Dickson, and raised money for the NRU. The British Ambassador in Guatemala, Sarah Dickson, said: "The British Embassy is committed to continue working closely with the Government of Guatemala in the fight against malnutrition and applauds the contribution that UK companies, such as Vitabiotics, can provide to this cause".
Priest Jose Estuardo Can received the donation given to the NRU, in operation since last August 4, 2012. Since its inception has treated 120 children with acute malnutrition.
The Director of NRU, Dr. Berta Ramos said that "these children have so many needs, but working together in a coordinated way with the institutions of government, and especially with the assistance of SESAN's technicians. Children of Baja Verapaz undoubtedly will make progress in their recovery with these nutrients".
SESAN's Secretary, Luis Enrique Monterroso, noted that the goal of reducing malnutrition can be achieved faster with the participation of state institutions, private companies and international cooperation. The Secretary reported that according to the Ministry of Health, to October 5 Purulhá has registered 87 cases of acute malnutrition, a figure significantly lower compared to the 125 detected in 2012 and 135 cases in 2011.
Published 30 October 2013