World news story
British judge highlights threats to judicial independence in Guatemala
In line with the British Embassy's efforts to tackle corruption, Sir Ross Cranston attended the forum 'the importance of the election of Guatemala's next Attorney General and the Future of Justice' on 21 March in Guatemala City.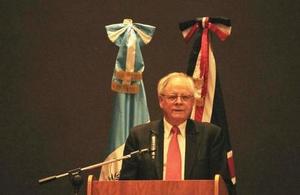 The forum was a joint initiative by the Guatemalan Ombudsman's Office, the organisation 'Alliance for the Reforms' and the British Embassy. Participants included; Francisco Rivas, former Guatemalan Minister of the Interior, and representatives of civil society institutions.
Sir Ross Cranston is a professor of law. He was a judge of the High Court, Queen's Bench Division for just over nine years and the judge in charge of the Administrative Court from January 2016. He was made QC (Queen's Counsel) in 1998. As Counsel he appeared before the High Court, the Court of Appeal and the House of Lords in Britain, and before the European Court of Human Rights and the Court of Justice of the European Union. He has held consultancies with UNCTAD, the World Bank, and the IMF.
Discussions focused on the importance of the independence of the judiciary, the role of the press as guarantors of transparency, the ideal profile of Guatemala's next Attorney General, and challenges ahead for the justice system. Jordan Rodas, Guatemalan Ombudsman; and Carolyn Davidson, British Ambassador to Guatemala gave short presentations at the opening of the event.
Well-functioning legal frameworks are essential for protecting the rights of all citizens against unlawful acts by others, including by governments and politicians. Judicial effectiveness requires efficient and fair judicial systems to ensure that laws are fully respected, with appropriate legal actions taken against violations. The forum was an opportunity to take stock of Guatemala's commitments to these principles.
The United Kingdom has identified countering corruption as a priority area for strengthening law enforcement. To promote transparency and improve judicial independence in Guatemala, the United Kingdom is working with other countries, NGOs, CICIG, and civil society organisations. During his visit Sir Ross Cranston also met with Commissioner Ivan Velasquez to express his support to the work of CICIG and Velasquez's leadership.
Published 22 March 2018