British journalist's exclusion from the Russian Federation
On 8 February Minister for Europe David Lidington made a statement in parliament in relation to the exclusion of British journalist Luke Harding from the Russian Federation.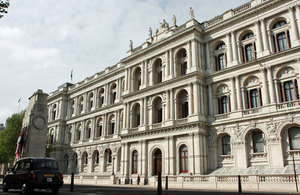 In a oral statement to Parliament, the Minister for Europe said:
On Saturday 5 February Luke Harding - a British journalist and Guardian correspondent in Russia - was refused entry to Russia at Moscow airport and sent back to the United Kingdom.
Mr Harding is a journalist who knows Russia well and has, over the last four years, given readers of the Guardian genuine insight into that country.
A free media and freedom of expression is a vital element of any free and democratic society and the Government deplores any restriction on those freedoms.
Mr Harding was not given any explanation for his exclusion and it is unclear to us at this stage whether he has the right of appeal against this decision.
The Foreign Secretary spoke to the Editor of the Guardian over the weekend and subsequently to the Russian Foreign Minister Sergei Lavrov by telephone yesterday.
The Foreign Secretary asked Foreign Minister Lavrov to explain the reasons behind the decision to decline entry to Mr Harding. Mr Lavrov said he was not aware of the specific reason but promised to find out and let us know. We are yet to receive a response, but we understand the Russians are actively looking into the issue.
We have since passed this information to the editor of the Guardian.
We understand that Mr Harding had previously been warned by the Russian authorities about several alleged violations of his status as a journalist- including visits without permission to border zones and classified areas. Indeed last November the Guardian approached us for support to secure Mr Harding's reaccreditation as a journalist when his accreditation had been withdrawn. We made representations at a senior level and in the event, Mr Harding was granted an extension of his accreditation as a journalist.
We have raised our concerns about media freedom in Russia most recently in our bilateral human rights dialogue with the Russian Government on 18 January. As the House will know Foreign Minister Lavrov is due to visit this country next week. My Right Honourable Friend the Foreign Secretary will be raising various issues, including most certainly human rights and media freedom in discussion with Foreign Minister Lavrov.
Knowing My Right Honourable Fried I am confident he will have this case in mind when he does so.
Published 8 February 2011