British IT investment in Malaysia
BT recently opened its global shared service facility in Malaysia. UKTI played a significant role in supporting BT and helping with publicity.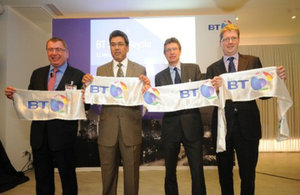 As part of its expansion programme in the Asia Pacific region and its investments in high growth markets, BT has opened a state-of-the-art, eight floor Global Shared Service facility just outside Kuala Lumpur in Malaysia.
UKTI Malaysia has a close working relationship with BT, one of the UK's largest companies and one with significant business interests in Malaysia. UKTI assisted with publicity for the new facility and the Deputy British High Commissioner officiated at its opening.
Clive Selley, BT Group CIO said:
We chose Multimedia Super Corridor Malaysia because of its globally competitive and multilingual workforce in addition to a world-class business environment and technology infrastructure.
The new facility consists of two centres, a Global Development Centre (GDC) and Contract Delivery Shared Service Centre (CDSS). The GDC will provide services in information and communication innovation and development, joining the network of eight other GDC's around the world in providing IT solutions (including development upgrades, migration, architecting etc.)
The CDSS will be part of a global network providing commercial, contract management and project management, business knowledge and process outsource activities, in support of BT's managed network IT service contracts with BT's largest multinational customers, such as DHL, Unilever, British American Tobacco and CLSA.
Multimedia Super Corridor (MSC) Malaysia
MSC Malaysia is the national initiative formed by the Malaysian Government and managed by the Multimedia Development Corporation (MDeC) to advance the Malaysian ICT industry. Established in 1996, MSC Malaysia has provided an ideal and conducive platform to nurture Malaysian companies to become world-class and attract participation from global ICT companies, such as BT, to invest and develop cutting edge digital and creative solutions in Malaysia.
As one of the world's leading providers of communications services and solutions, BT was awarded MSC status on 27 November 2012. BT's latest expansion in Malaysia, which has been supported by MDeC will be a valuable asset to Malaysia's ICT sector. The investment will further develop MSC Malaysia's business ecosystem and the country's draw as a vibrant global hub for the high-technology industry.
Collaboration with universities
With the opening of the new Global Shared Service facility, BT will be relocating its current staff spread across two offices into this one new facility. It will also be recruiting around 600 new staff in high-income high-value jobs, such as software developers, QA managers, technical leads, project managers and support function roles.
As part of tis recruitment strategy BT is forming good ties with universities in Malaysia to establish strong internship and graduate programmes. It is also looking wider to develop relationships with other universities in Australia and the UK to encourage graduate talent to return to Malaysia.
BT's expansion in MSC Malaysia is an exciting opportunity to create geographical diversity in our technology business, and to collaborate with Malaysian universities to develop the key skills and expertise required to enable BT to deliver for its customers around the world.
Investing in R&D
BT has been operating in Malaysia for close to 20 years, and over this time has forged a strong relationship with the Malaysian Government and related agencies, in particular MDeC. In 2004, BT invested in the establishment of a research and development (R&D) facility that has contributed to the creation of Malaysian intellectual property, as well as the training of knowledge workers in cutting-edge technology and innovation processes.
BT is proud of its R&D record in Malaysia. The team in Malaysia will collaborate with a geographically diverse organisation and will be involved in all stages of the design, development and delivery lifecycle.
The BT R&D centre has been and continues to be a significant asset to MSC Malaysia, by providing cutting-edge technology and patents used by both BT and local businesses to exploit and commercialise in Malaysia. The company's new Global Shared Service facility will further strengthen the Malaysia's ICT sector and MSC Malaysia.
Further Information
Developing your business in Malaysia contact UKTI
Published 2 May 2013
Last updated 2 May 2013
+ show all updates
Errors in hyperlinks

First published.