World news story
British Irish Visa Scheme launches in India
From today (Tuesday 10 February) Indian visitors will be able to apply for their UK or Irish visit visas under the British Irish Visa Scheme.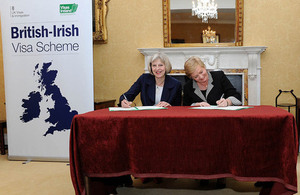 The scheme will allow Indian nationals to travel to the UK and Ireland on a single visit visa and will make it easier and more attractive for Indian travellers to visit both countries on the same trip.
The scheme was formally launched by the Home Secretary Theresa May and the Irish Minister for Justice and Equality, Frances Fitzgerald, last October and is currently only open to Indian and Chinese nationals.
British High Commissioner to India Sir James Bevan said:
This is another example of the continuous improvements we are making to the visa service for Indian nationals.

India is a key growth market for both UK and Irish tourism. We hope that more Indian visitors will choose to come to the UK and Ireland as a result of this latest change.
The Ambassador of Ireland to India, Feilim McLaughlin said:
I welcome the new British-Irish Visa Scheme and the benefits it will bring Irish-Indian trade and tourism links.

India is a priority market for Ireland under the Government's Trade, Tourism and Investment Strategy and the Embassy in New Delhi and the State agencies in India work on the basis of a joint strategy to increase trade, investment, education and tourism between our two countries.

I hope that this scheme helps to grow the deep ties between India and Ireland in the future.
As part of the scheme Ireland will share the UK's 12 visa application centres across India and all applicants wanting to apply for any Irish or UK visa will need to use the shared Visa Application Centres to submit their applications and give their biometrics.
Those using the scheme will need to arrive and travel to the country which issued their visa first, before being able to travel onto the other country. However visitors transiting via the UK to Ireland will not need a separate transit visa.
Further information:
The UK continues to offer an excellent visa service to Indian customers and in the year ending September 2014 over 300,000 visitor visas were issued to Indian nationals and 91% of all Indian customers were successful in their visa applications.
The UK offers a number of priority services to Indian customers including:
Priority service – this service guarantees customers a visa decision between 3 to 5 days and all visitors who have travelled to the UK, USA, Australia, New Zealand or a Schengen country in the last five years can use it.
Super Priority service – available to customers applying from Mumbai, Delhi or Chennai this service guarantees a same day visa decision. The service is open to visitors applying for a six month or two year visit visa, who have travelled to the UK, USA, Australia, New Zealand or a Schengen country in the last five years.
Passport Pass-back service – this service makes it easier for travellers to apply for two visas at the same time, by returning an applicant's passport once they have applied for their visa at the visa application centre.
Premium Service lounges – available to customers in Ahmedabad, Mumbai, Chennai, Bangalore and New Delhi this service offers customers a separate lounge and a faster service to submit their documents and biometrics in.
Stuart Adam, Director,
Press and Communications
British High Commission,
Chanakyapuri, New Delhi 110021
Tel: 44192100; Fax: 24192411

Mail to: Natasha.Woollcombe@fco.gov.uk
Follow us on Twitter, Facebook, Flickr, YouTube, LinkedIn, Storify, Eventbrite, Blogs, Foursquare
Published 10 February 2015