World news story
British infrastructure delegation to visit Chandigarh
A British infrastructure delegation will visit Chandigarh on 20 and 21 October 2016.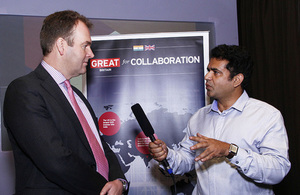 It comprises representatives of eleven UK companies along with officials from the UK Department for International Trade (DIT) and the British High Commission.
The delegation will have roundtable meetings with the Chief Secretaries of Punjab and Haryana, as well as the Chandigarh administration, to discuss plans for upcoming infrastructure projects in the region. The British Deputy High Commission Chandigarh will also host an interactive session on 'Infrastructure and Urban Development' on 21 October to provide an opportunity for representatives of state governments, municipalities and the private sector to learn more about the expertise and capabilities of the UK companies and to explore how best they might participate in projects in the region.
The participating UK companies have expertise in infrastructure & urban planning, architectural design & heritage conservation, transport design, water & waste management, renewable energy and services including project & programme management and construction delivery.
British Deputy High Commissioner Chandigarh David Lelliott said:
We are aware how important infrastructure and urban development projects are for the people of this region, and have been engaging closely with governments at state and city level. The UK has much to offer, so I'm delighted that this delegation representing UK expertise across a wide range of relevant fields is visiting Chandigarh. The visit underlines the interest that UK companies have in doing more in this region.
The visit has been organised by the British Deputy High Commission Chandigarh and DIT.
Further information:
The delegation consists of representatives of the following UK companies:
Mace Group
ECO WMT
Global Greens
Parking Control Management
BDP
Purcell UK
Bolina Booms
NVH Technologies
Northgate
CDE Asia
Watershipdown Technologies
They will be accompanied by:
David Lelliott, British Deputy High Commissioner Chandigarh
Dipankar Chakraborty, Agri-Tech & Chemicals Sector Lead for India & Head of Trade for Northwest India
Javaid Malla, Energy annd Low Carbon Adviser
Rishikesh Chanda, Senior Sector Manager Kolkata
Mukul Verma, Senior Trade Adviser Delhi
Representatives of the media are cordially invited to attend the roundtable.
For media queries, please contact:
Alam Bains
Media Adviser
British Deputy High Commission Chandigarh
Mob: 9501925556

Mail to: Alam Bains
Follow us on Twitter, Facebook, Flickr, Storify, Eventbrite, Blogs, Foursquare, Youtube, Instagram, Vine, Snapchat @UKinIndia, Periscope @UKinIndia
Published 20 October 2016