World news story
British Home Secretary visits Lahore, discusses close cooperation and bilateral ties
The Home Secretary meets Chief Minister and Governor of Punjab, visits Punjab forensic science agency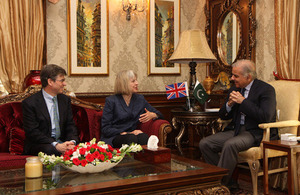 On the second day of her visit to Pakistan, the British Home Secretary, Theresa May, met the Governor of Punjab, Chaudhry Muhammad Sarwar and the Chief Minister of Punjab, Mian Muhammad Shahbaz Sharif.
After her meeting with Chief Minister Shahbaz Sharif, the Home Secretary said:
This is my third visit to Pakistan as Home Secretary and the ties between our countries feel stronger than ever. I also know that our close cooperation has never been more important.
The lives of our citizens are connected through travel and trade, family and culture. There is constant and meaningful contact between our governments, institutions and civil society organisations as well. This is the bedrock of our partnership.
We also share a powerful interest in fighting the extremism and terrorism that threatens people in both countries. The UK is committed to working jointly with Pakistan to combat the shared threat of terrorism and violent extremism. Increasing the rate of successful terrorist prosecutions forms a central element of UK-Pakistan cooperation.
I want to take this opportunity to reaffirm the UK's commitment to Pakistan's fight against extremism. Just as our histories are woven together so too will be our future.
The British Home Secretary, accompanied by Punjab Chief Minister Shahbaz Sharif, also visited the Punjab Forensic Science Agency (PFSA) in Lahore. The PSFA services all of the Punjab's forensic needs, from crime scene investigation to testing forged cheques for banks.
Further Information
Contact:
Press Attaché, British High Commission, Islamabad; tel. 051 201 2884
Published 25 September 2013