World news story
British High Commissioner's statement after meeting BNP Chairperson
Robert W Gibson and the BNP Chairperson Begum Khaleda Zia discussed the current situation in Bangladesh.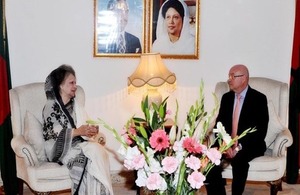 The British High Commissioner, HE Robert W Gibson, called on the Honourable Chairperson of the Bangladesh National Party this afternoon. He passed on his personal condolences on the passing of her son Koko.
The High Commissioner and the Chairperson discussed the current situation in Bangladesh.
On leaving the meeting the High Commissioner made the following statement:
"I have taken the opportunity this evening to offer my personal sympathies to the Honourable Chairperson over the loss of her son Arafat Rahman Koko. The UK is committed to the future stability, development and prosperity of Bangladesh in which we are and will remain close partners. As I have said before, the extent of the current violence and disruption to the lives of all people in Bangladesh is distressing and deplorable. I have consistently called on all parties to fully consider the effects of their actions and resist from causing further damage to the country's national interest. I also urge all parties to consider confidence building measures that would defuse the current tension in the country and allow normal life to resume. In the long term, I hope that further confidence building measures can be taken that will ultimately break the habitual cycle of violence and disruption that appears to characterise elections in Bangladesh and which would allow all legitimate political activity to take place peacefully.
Published 11 February 2015