World news story
British High Commissioner visits spiritual home of Grandfather's regiment
Philip Barton's grandfather served as a company commander on active operations in Waziristan, before becoming Commanding Officer of the 3rd Battalion, 16th Punjab Regiment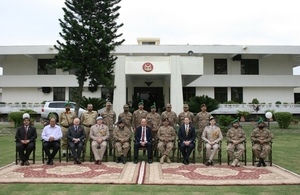 The British High Commissioner, Philip Barton CMG OBE, this week visited Mardan, the spiritual home of his grandfather's regiment – the Punjab Regiment.
The High Commissioner's maternal grandfather, Brigadier Robert Arthur Stubbings, transferred into the 1st Punjab Regiment in 1917 from the British Army, starting a military career that saw him serve all over what became Pakistan. Philip Barton's grandfather served as a company commander on active operations in Waziristan, before becoming Commanding Officer of the 3rd Battalion, 16th Punjab Regiment.
Brigadier Stubbings was a graduate of the prestigious command and Staff College in Quetta. He went on to become a staff officer in Lahore and Bannu, before becoming Brigade Commander in Balelli and Jhelum, retiring in 1947. He was Mentioned in Dispatches for his bravery in the Gallipoli Landings and was awarded the North West Frontier medal twice.
Other members of the British High Commission staff have grandfathers who served in this famous regiment of the Pakistan Army. The grandfather of Brigadier Murray Whiteside, the UK's Defence and Military Adviser, Major-General Whiteside was commissioned into the 2nd Punjab Regiment and served in Waziristan, Khyber and Rawalpindi before Partition. Like Brigadier Stubbings, he was educated at Command and Staff College Quetta. General Whiteside was the first Master General of the Ordnance (MGO) for the Pakistan Army after Partition and worked closely with Major-General Syed Shahid Hamid, the founder of ISI, before handing over to him as MGO in 1951.
The grandfather of Counsellor Giles Whitaker, also of the British High Commission, served in the Punjab Regiment from 1918 and saw active service on the North-West Frontier and in World War II before retiring as a Lieutenant-Colonel in 1948.
British High Commissioner, Philip Barton CMG OBE, said:
It was a real privilege to be able to visit the spiritual home of the Punjab Regiment. The Regiment has a long and distinguished history both before and after partition. I was particularly honoured – a week before Remembrance Day - to be able to lay a wreath to remember those who had made the greatest sacrifice for their country.
It meant a lot to me to be able to remember my grandfather and his time in this beautiful land. The personal connections between my team and Pakistan illustrate and reinforce the deep ties between our two countries.
The British High Commissioner met the Deputy Commandant of the Punjab Regiment, Colonel Faisal Zeeshan and laid a wreath at the Yadgar-e-Shuhada at the Punjab Regimental centre, Mardan. He was accompanied by the Defence Adviser, Brigadier Murray Whiteside OBE; the Assistant Military Adviser, Major Christopher Beaver; Counsellor Giles Whitaker; and first Secretary Oliver Hayes OBE.
Contact: Press Attaché, British High Commission, Islamabad; tel. 051 2012000
Notes to editors
The Punjab Regiment, which was founded in 1759, counts four Nishan-e-Haider and two Victoria Cross winners, Field Marshal Ayub Khan, former COAS Asif Nawaz Janjua, the current DG ISPR and the new NSA among its more famous sons.
Published 9 November 2015