British High Commissioner presents credentials to President Mamnoon Hussain
The new British High Commissioner to the Islamic Republic of Pakistan, Philip Barton CMG OBE, presented his credentials to President Mamnoon Hussain at a ceremony at the Presidential Palace in Islamabad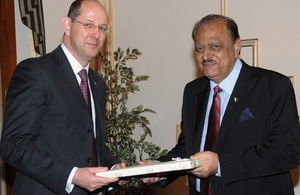 Mr. Barton arrived in Pakistan last month, succeeding Sir Adam Thomson.
Speaking at the ceremony, Mr. Philip Barton said:
It is a huge privilege to be working here in Pakistan and to be leading one of Britain's largest diplomatic missions. My family's connection to this part of the world goes back generations. Coming back to Pakistan has been everything I expected: warm hospitality; a rich and varied culture and, of course, some challenges.
I look forward to renewing my acquaintance with a country that I first visited in the early 1990s. The ties that join the UK and Pakistan are as strong as ever. Our two governments have a regular dialogue at the highest levels.
I am personally committed to working closely with our partners in Pakistan to take our bilateral relationship to the next level. I want to capitalise on the growing opportunities in trade, investment and education, amongst many other areas. I am confident that we will develop even stronger ties in the years to come.
Notes to the Editor
Prior to his posting to Pakistan, Mr. Barton held the position of Deputy Head of Mission in the British Embassy in Washington. He has also served as Director Afghanistan/Pakistan in the Cabinet Office and Additional Director for South Asia at the British Foreign and Commonwealth office London. Please follow this link for the High Commissioner's detailed CV

To follow the High Commissioner on Twitter, please click here
Published 7 March 2014