World news story
British High Commissioner-Designate stresses upon the need to have more girls inclusion in sports
During his visit to Karachi the British High Commissioner-designate, Thomas Drew CMG, watched a friendly football match between teams of young female footballers.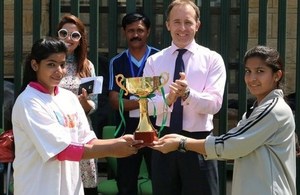 Organised at the British Deputy High Commission in Karachi, the match was played between under 14 teams from the Committee for Monitoring and Improvement of Schools, the S.I.T.E. Government School Campus and the Karachi United Football Foundation, Orangi Centre, Karachi.
The event was part of the British Council in Pakistan's international award winning programme for Developing and Organising Social Transformation Initiatives, ( 'DOSTI' ). This programme promotes the inclusion of girls by showcasing their talent and skills in sports.
Other than the senior officials from the British Deputy High Commission, the friendly match was attended by the heads, coordinators, youth workers and coaches of the partner organisations delivering this programme.
Addressing the young athletes and participants after the match, the British High Commissioner-Designate said:
Four weeks into my time as High Commissioner, I am constantly struck by the talents of Pakistan's young women. Sport is a great example. I see it in today's football match, as I see it watching Pakistan's Women's Cricket Team's success in the ICC World T20 Tournament.

The British Council's award winning 'DOSTI' programme takes an innovative approach to use sport to cut across social and cultural barriers and help both young people in Karachi find common ground and foster understanding, tolerance and an appreciation of diversity. The programme has already achieved tremendous results: it has already trained more than 12,000 young people, half of them girls.

This all contributes to the wider goal of ensuring Pakistan can reach its full potential. That will happen when all of its population, men and women can contribute to the full. That will be good for Pakistan, and what is good for Pakistan is good for the UK.
Notes for Editors:
DOSTI brings together the most vulnerable and ethnically diverse young people in Karachi, both boys and girls aged 12 to 18, in safe spaces to be coached, trained and groomed through a Sports and Peace programme that aims to transform them into peace advocates and leaders committed to promoting harmony and cohesion in their communities.

DOSTI uses sports as a medium to cut across social and cultural barriers to help both young people and diverse communities in Karachi find common ground to foster intergroup understanding, tolerance and eventually an appreciation of diversity.

With the help of 6 local delivery partners and two strategic partners for capacity building, DOSTI caters to 11 Communities in areas such as Lyari, Korangi, Orangi etc. which are known for recruiting young boys as gang members and drug users. The programme has provided many participants with an opportunity to alter the trajectory of their lives by leaving behind a life of drug abuse, crime as street children and discrimination.

On 26 November 2015 DOSTI Pakistan achieved international recognition after winning a prestigious award for 'adapted programme of the year' at the 2015 Peace and Sport Awards ceremony in Monaco. For more information, visit here
Contact

Press Attaché

British High Commission

Islamabad

Tel. 051 201 2000


Published 24 March 2016