World news story
British High Commissioner Alison Blake's message
To mark Her Majesty The Queen's 90th Birthday in Bangladesh.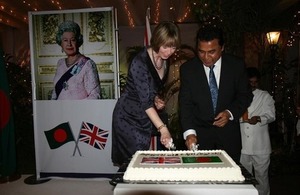 This year, we have the honour of celebrating Her Majesty Queen Elizabeth II's 90th Birthday. We celebrate Her Majesty's dedication, service and commitment to the United Kingdom, and the Commonwealth. Our celebrations are shared: Bangladesh is a highly valued member of the Commonwealth family and I am delighted to be part of the festivities in Dhaka in my first year as the British High Commissioner to Bangladesh.
The event gives us an opportunity to reflect and show gratitude for the remarkable service Her Majesty Queen Elizabeth has given to the Commonwealth over her 63 year reign. 54 member states and 2.2 billion Commonwealth citizens are joined together through this unique, diverse and vibrant network.
As two commonwealth countries, we share a set of core values including a commitment to Parliamentary democracy; and a tolerant and pluralistic system with a commitment to protect and uphold human rights.
To mark Her Majesty's 90th birthday there will be a "Patron's Lunch" for 10, 000 people to be held in London this June. Her Majesty is patron to over 600 charities and organisations from across the Commonwealth, and this commitment to helping others is further cause for a National and Commonwealth wide celebration.
This is also an occasion to mark the strong friendship between the UK and Bangladesh, a friendship that has grown during Her Majesty's reign. London was the first stop for Sheikh Mujibur Rahman after his release from jail in 1972, and the UK was one for the first countries to recognise an independent Bangladesh. Helping Bangladesh to meet her aspirations to build a brighter future for all her people remains one of our mutual goals.
Our friendship has breadth and depth as we work together in several areas including deepening our prosperity links; tackling shared threats; and creating more inclusive communities. At the very core of our friendship are our unique people to people ties: the UK has a 500, 000 strong Bangladeshi heritage community and I was privileged to visit Sylhet within the first month of my arrival – ancestral home to many British nationals with links to Bangladesh.
The UK is the largest bilateral grant donor to Bangladesh and over the past 5 years, we have helped lift 1.5 million people out of extreme poverty; provided clean drinking water for 1.3 million people; ensured 500,000 children complete primary school; and helped 500,000 women give birth safely. We are also supporting private sector development, strengthening governance, reducing risks from disasters, addressing maternal and child deaths, and tackling violence against women and girls and early and forced marriage.
There is great demand for English language training, and educational and cultural programmes delivered by the British Council find an avid audience in Bangladesh. Our educational ties are strong; over 20, 000 Bangladeshi students have studied in UK universities in the last five years.
I am proud that we are the largest cumulative investor in Bangladesh with over £1.3 billion of investment in the country; over 100 UK companies are operating successfully in Bangladesh. The UK is the third single largest destination for exports from Bangladesh with garments and seafood accounting for the bulk of total sales to the UK.
There was further good news for our friendship recently; on the occasion of the Bengali New Year, 'Pohela Boishakh', the British Prime Minister David Cameron announced the appointment of Rushanara Ali MP as his Trade Envoy for Bangladesh. As Bangladesh grows and diversifies its economy, Ms Ali will play a pivotal role in building on these ties to raise awareness of and further enhance the collaboration between the UK and Bangladeshi businesses.
I now look forward to making our bonds even stronger in the years to come. I hope like many people around the world you can join me in thanking Her Majesty for her unique dedication, commitment and service, and wish Her Majesty continued good health.
Alison Blake British High Commissioner to Bangladesh
Published 20 April 2016