World news story
British High Commission Windhoek celebrates One Year Anniversary of the London 2012 Games
This was published under the 2010 to 2015 Conservative and Liberal Democrat coalition government
UK in Namibia celebrates the anniversary of the London 2012 Olympic Games and donates sports equipment to Dagbreek School.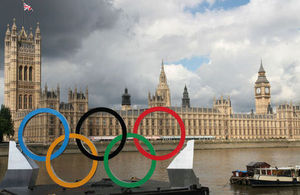 This Friday, 2 August 2013, the British High Commission and the British Council in Namibia will celebrate the one year anniversary of the London 2012 Olympic Games and will donate sports equipment to the Dagbreek School for Intellec. Impaired. This celebration forms part of the UK's Olympic and Paralympics Games Legacy campaign and highlights Namibia's fantastic achievements in disability sports.
At the event, the British High Commissioner, H.E. Mrs. Marianne Young, will hand over an Olympic Torch to the Brazilian Ambassador, H.E. Ms. Ana Maria Sampalo Fernandes, highlighting the legacy of the 2012 London Games and introducing the next Olympic and Paralympic Games, set to take place in Rio de Janeiro, in 2016.
Celebrities attending the event include singing sensation Linda and Special Olympics Ambassador Sunny Boy, amongst others.
Representatives of the media are invited to attend. The event will take place at the Dagbreek School in John Ludwig St. Corner Hebenstreitst, Klein Windhoek, at 07h30.
Programme 07h30: Dagbreek School teachers/pupils assemble in the assembly hall
07h40: Principal Paul du Plessis welcomes guest of honours and staff, teachers, kids - Reading of Scripture 07h50: HE Marianne Young hands over material to school (worth 18.000,- N$) + Greeting remarks
08h00: Song/Singing by school
08h05: Athlete Gideon Nasilowski reads the "Disability Sport Oath"
08h10: HE Marianne Young hands over torch/relay baton to Brazilian Embassy Representative
08h15: H.E. Ms. Ana Maria Sampalo Fernandes, Brazilian Ambassador, greeting remarks and handing over Brazilian donation of sports material to school
08h25: Special Remarks by Representative of GRN, Chief School Inspector Khomas Region, Mr. Urbanus Kaihiva
08h30: Principal Paul du Plessis closes event
08h40: Singer Linda makes guest appearance
08h45: Refreshments/Snack to be served.
Photo opportunity with Special Guests (Gideon Nasilowski, Linda and Sunny Boy)
End of Official Programme
Afterwards: Pupils will begin with: "Physical Development Programme" including stations "Basketball", "Soccer", "Cricket", "Tennis" and others.