World news story
British High Commission Victoria helps Seychelles join international Paralympic family
This was published under the 2010 to 2015 Conservative and Liberal Democrat coalition government
British High Commission Victoria and UK Sport have joined hands to help Seychelles become the first new International Paralympic Committee (IPC) member since the London 2012 Paralympics.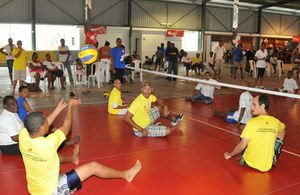 On the first anniversary of the London Paralympics, British High Commission Victoria's close cooperation with Seychelles on disability and sport is rewarded as Seychelles becomes the first country to be accepted by the International Paralympic Committee (IPC) since London 2012.
Foreign and Commonwealth Minister for Africa Mark Simmonds MP said:
The relationship between our High Commissioner and those involved in disabled sport in Seychelles is an inspirational one. I'm delighted to learn that these transformational efforts have led to Seychelles being accepted by the IPC in time for the first anniversary of the London Paralympics – which had such a global impact - and send my heartfelt congratulations.
The rapid progress made in organising and recognising Paralympic sports in Seychelles followed the Foreign Secretary's invitation to Sports and Community Development Minister Vincent Meriton to the Paralympics Opening Ceremony. Hosted that evening by the FCO's Permanent Under-Secretary Sir Simon Fraser, the inspirational seeds of what might be achieved in Seychelles were sown.
British High Commissioner Lindsay Skoll and her small but highly motivated team began work instantly, setting themselves and their Seychelles hosts the ambitious target of just one year to turn the vision into reality and taking every opportunity to raise the profile of disabled access and opportunity through sport.
Modest London 2012 legacy funds were put to great use in enabling two experts (UK Sport's Senior Advisor, Elias Musangeya and President of Rwanda's Paralympic Committee, Dominique Bizimana) to visit the islands, providing further inspiration and helping draw up the action plan which directly led to this success. In tandem, the British High Commission helped organise a "Get Inspired" event for Elias and Dominique to reach-out directly across Seychelles communities to local disabled students, parents, coaches and volunteers. This created both widespread enthusiasm and a sense of possibility for those who most needed to believe something would change; that a Paralympics Association was not just a dream focused on a few lucky athletes for Rio 2016, but a movement that would actually effect grass roots transformation around perceptions and barriers to disability.
"The commitment shown in Seychelles to advancing Paralympic sport and embracing the values and aspirations of the Olympic movement post 2012 has been incredible. The establishment of the Paralympic Association of Seychelles is precisely the kind of tangible, dynamic outcome that the games sought to achieve and which is already making a positive difference to the lives of potential Paralympic athletes and all disabled people in Seychelles," said High Commissioner Lindsay Skoll.
Alain Volcere, Chairman of the Paralympic Association of Seychelles said:
This is a huge step forward for disabled sport in Seychelles and in advancing the profile of all disabled Seychellois. To have accomplished this within a year of London 2012 illustrates how inspired we were by what were the greatest Paralympic games ever. It would not have been possible without the assistance of UK Sport and the British High Commission. We are hugely grateful for their support and hope that this relationship will further strengthen and grow as we look towards the Commonwealth Games in Glasgow next year.
Elias Musangeya, Senior International Management Advisor at UK Sport and whose expertise was central to success said:
I would like to congratulate the Seychelles on what proved to be a fantastic opportunity for myself and UK Sport to get involved through international inspiration, to work in partnership to help build an inclusive Paralympic Committee in the Seychelles that is recognised by the IPC.
Further Information
Document information
Published: 29 August 2013