World news story
British High Commission to welcome Queen's Baton Relay to Canberra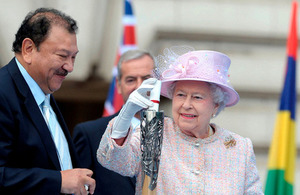 In celebration of the Commonwealth Games links between the UK and Australia, the British High Commission will be hosting a reception to welcome the arrival of the Glasgow 2014 Queen's Baton Relay to Canberra.
The relay is one of the great traditions of the Commonwealth Games. The iconic baton, which contains a message from Her Majesty The Queen to be opened during the Glasgow 2014 Opening Ceremony, arrives in Canberra as part of its 190,000 kilometre journey around 71 nations and territories.
Speaking about the reception, Charge d'Affaires Mr Tony Brennan said:
The Commonwealth Games are a highlight of the sporting calendar, as well as being one of the most visible examples of the ties that bind the nations of the Commonwealth. I am delighted that The Queen's Baton will pass through Canberra on its way to Glasgow, a city that is ready and eager to put a spectacular games.
The Queen's Baton Relay started its Australian leg in Perth, from there it will travel to the Gold Coast, host city of the 2018 Commonwealth Games. The Baton will then travel to Canberra for the reception at the British High Commission, before heading to Townsville and Cairns, and then on to it's next destination; Papua New Guinea.
More information:
For more about the Queen's Baton Relay visit the Glasgow 2014 website
Published 31 October 2013