World news story
British High Commission supports finalisation of National Security Policy
Stakeholders from a cross section of society are in Lilongwe for a security summit. Recommendations from the summit are to feed into the finalisation of the National Security Policy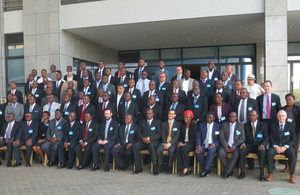 A cross section of stakeholders from the security institutions, government, civil society, academia, private sector, faith groups, traditional authorities, and development partners are meeting in Lilongwe from 8th to 9th September 2015 for a security summit under the theme "Addressing contemporary challenges to security and development in Malawi" whose recommendations will feed into the finalisation of the draft National Security Policy.
The British High Commission, as one of the sponsors of the summit, welcomed the opportunity to bring together stakeholders to deliberate on the security challenges facing Malawi and make recommendations to feed into the process of finalising the much needed National Security Policy.
High Commissioner Michael Nevin said, on the sidelines of the summit while addressing members of the media that, the UK is looking forward to the finalisation of the policy which will be a blue print for actors in addressing traditional and emerging security challenges in Malawi.
"The summit and national security policy will update Malawi's security priorities, give direction, improve coordination and therefore impact and efficiency. Having a policy will be of great use but also an initiative that Malawi can demonstrate as a model in the region," said Nevin.
The High Commissioner chaired the first session on "Ensuring Security, Defence and Development in Malawi", shortly after the official opening of the summit by the Chief Secretary in the Office of President and Cabinet (OPC) Mr George Mkondiwa.
On his part, Mr Mkondiwa said during his key note address that the summit was important and timely because security is a shield that safeguards and insulates a country to be on course in achieving its national development agenda. He said Malawi has recently seen the emergence of new threats that are making it difficult for the country to fulfil its ambitious growth and development agenda;
"Although Malawi has generally been peaceful, the country increasingly faces new and emerging security challenges, which among other things, include threats posed by cases of HIV/AIDS, lack of employment opportunities; rapidly escalating crimes in urban areas, high levels of illiteracy; increased mortality as well as natural and human made disasters," said Mkondiwa.
He added that for the country to combat these challenges, there was need for holistic approach and clear and coherent guidelines on how security agencies coordinate in countering these threats, hence the historic step in coming up with an overarching National Security Policy.
During the summit, participants will hear and deliberate on presentations covering the following pillars: Identifying and responding to security challenges; Countering contemporary security challenges; protecting territorial integrity; policing and internal security operations in Malawi; Criminal justice and prevention of crime; Disaster preparedness and management; promoting corporate security in Malawi; Conflict and Crime Prevention.
Further information
Published 9 September 2015