World news story
British High Commission sponsors training programme for magistrates and prosecutors
UK experts to lead training programme on "the Magisterial and Prosecutor's Approach to Money Laundering, Corruption and Asset Recovery".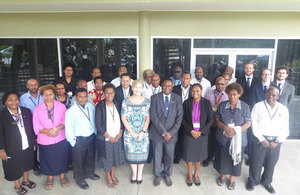 Magistrates from Papua New Guinea, Solomon Islands and Fiji will this morning commence a three-day capacity building programme at the Gateway Hotel, Port Moresby to assist them in effectively applying PNG's proceeds of crime legislation, particularly for corruption and financial crime cases.
The programme has been designed to bridge critical knowledge and skill gaps identified in consultation with the Judiciary and Magistrates. A third day of workshops will be held for Prosecutors focusing on the challenges for Prosecutors under the Proceeds of Crime Act 2005.
The programme is a joint initiative of the British High Commission in Papua New Guinea and PNG's Judiciary and is delivered by GovRisk, a specialised provider of technical assistance in financial crime prevention. The programme will be led by UK Barrister Alexander Mills, and GovRisk Directors Dominic and Nicolas Le Moignan.
The programme builds on GovRisk's 2014 work with the PNG Government, law enforcement agencies and banking authorities to combat money laundering, corruption and financial crime and their work last year with the PNG Judiciary.
Notes to editors:
Global Money Laundering is estimated at 2-5% of total GDP, or £23-57 billion (PGK100-430 billion)

GovRisk specialise in the delivery of capacity building programmes to the public and private sector in the fields of anti-corruption, anti-money laundering and public procurement.
Contacts
GovRisk Dominic Le Moignan, Director, Government Projects dominic.lemoignan@govrisk.org
British High Commission Lyndel Toidalema, Political Affairs Officer Lyndel.Toidalema@fco.gov.uk
Published 30 March 2016