World news story
Pretoria HC and DFID mark International Women's Day 2014
They co-hosted a panel discussion on "Working together to prevent Gender-Based Violence (GBV)"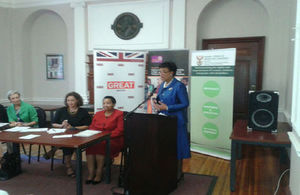 To mark International Women's Day 2014 in South Africa, the British High Commission with DFID Southern Africa co-hosted a panel discussion in Cape Town on "Working together to prevent Gender-Based Violence (GBV)" with the Department of Women, Children and People with Disabilities, UNFPA, Sonke Gender Justice and the South African Faith and Family Institute.
The discussion centred on the importance of collaborative working between the South African government, civil society organisations, religious leaders and development partners, such as the UK and United Nations, in order to address key priorities for preventing gender-based violence. It also served as an opportunity to share experience from the UK of mobilising partnerships for preventing gender-based violence, raise awareness of DFID-supported work with key partners in South Africa, and the FCO Preventing Sexual Violence in Conflict Initiative (PSVI), and to discuss key priorities for addressing gender equality in the post-2015 Millennium Development Goals.
Six speakers led the panel discussion, including: Judith Macgregor, the British High Commissioner to South Africa; Minister Lulu Xingwana for the Department of Women, Children and People with Disabilities; Baroness Scotland, the Prime Minister's Trade Envoy to South Africa; Ms Elizabeth Petersen, Director of the South African Faith and Family Institute; Steven Brislin, the Catholic Archbishop; and Professor Dee Smythe, from the University of Cape Town's Legal Centre. Attendees included government, civil society, religious leaders and United Nations representatives.
The discussion culminated in the signing of the pledge for the global 'We Will Speak Out' (WWSO) campaign, led by faith-based civil society organisations. The WWSO coalition launched its campaign in South Africa in Pretoria, on 25 November 2013 (after campaign launches in Burundi, the Democratic Republic of Congo, Rwanda, and Liberia). The launch was endorsed and chaired by the Anglican Archbishop Thabo Makgoba. This latest panel discussion on GBV in Cape Town highlighted how religious leaders and civil society organisations are working in partnership to develop concrete plans on how this new campaign is localised and taken forward in South Africa.
This event follows on from Foreign Office Minister for Africa, Mark Simmonds visit to the Democratic Republic of Congo in February 2014, where he launched a PSVI funded project, implemented by WWSO coalition members. He was joined by the Archbishop of Canterbury. Mr Simmonds also signed the WWSO pledge, stating the UK's commitment at the highest levels to support churches and civil society organisations to prevent sexual violence.
This event also marks an important week for policy developments for women and girls in both the UK and South Africa, with the approval of Gender Equality Bills in both countries on the very same day, on Tuesday 4th March 2014!
Published 7 March 2014