British High Commission marks St. Andrews Day
To mark St. Andrew's Day Acting High Commissioner Lucy Joyce spoke at the Lusaka & District Caledonian Society St. Andrew's Day Annual Ball. She said: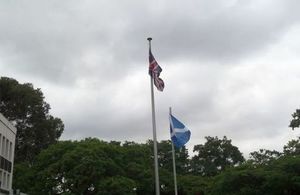 "Today, we are celebrating the best of Scotland, and all that this land and its people have contributed to the world. Its history and heritage: a country rich in thriving contemporary culture, creativity and commerce; home to some of the most breath-taking scenery imaginable.
"There is a thriving Scottish community in Zambia, and strong links between Scotland and Zambia. There is a growing community of Zambians who have studied at Scottish universities, many of whom have come back and now hold key positions in the public and private sectors here."
Ms Joyce said she was pleased that the Scottish Government was supporting development in Zambia, as a complement to the large programme run by the British Government's Department for International Development (DFID).
She gave an example of the SCIAF's Kulima Programme in Lusaka, which is working through the local Kasisi Agricultural Training Centre (KATC) to help 1,350 small-holder farmers improve food production, and the amount of food they produce for their family, by using organic methods.
The Acting High Commissioner also said Scottish Government External Affairs and International Development Minister Humza Yousaf visited Zambia in 2014 to welcome the arrival of the Commonwealth Games Queen's Baton and visit Scottish Government funded development projects.
Further information
St Andrew's Day is celebrated in Scotland on 30 November, in honour of St Andrew, the patron saint of Scotland.

In Scotland, and many countries with Scottish connections, St Andrew's Day is marked with a celebration of Scottish culture with traditional Scottish food, music and dance. Schools across Scotland hold special St Andrew's Day events and activities including art shows, Scottish country dancing, lunchtime ceilidhs, dance festivals, storytelling, reciting and writing poems, writing tall tales, cooking traditional Scottish meals, and bagpipe-playing. The day is also seen as the start of a season of Scottish winter festivals encompassing St Andrew's Day, Hogmanay and Burns Night.

The Saltire is the national flag of Scotland and, with a white diagonal cross on a blue background. Saint Andrew is said to have been martyred on such a cross.

Scottish Catholic International Aid Fund's (SCIAF) received a total of £2.7 million from the International Development Fund to deliver two projects in Zambia aimed at helping farmers increase food production between 2008 and 2015, the Promoting Rural Food Security Programme (2008-12) and the Kulima Programme (2012 – 2015.)

The Scottish Government is a devolved administration within the United Kingdom.

The Lusaka & District Caledonian Society will host its annual St Andrew's Day Ball on November 28 at the Southern Sun Ridgeway to celebrate the event. The Caledonian Society celebrates this date with an annual ball, Scottish fare and an array of whiskies. The event unites expats with enthusiasts of Scots history. There is music that ranges from the traditional skirl of the pipes to local Zambian hits spun in the wee small hours by the resident Scottish DJ.
For further information contact Alfred Kapalayi on telephone +260 211 423200
British High Commission, Lusaka 29 November 2015
Published 30 November 2015