World news story
British High Commission marks International Women's Day
The British Deputy High Commission in Lagos marked the International Women's Day by highlighting the issue of violence against women and girls at a seminar and interactive session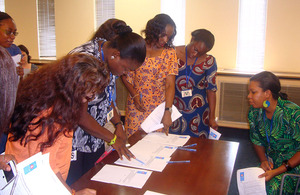 This year's theme is "A promise is a promise: Time for action to end violence against women".
In his opening remarks, British Deputy High Commissioner, Peter carter said violence against women is an enemy to social and economic development in the society. He said further that he hopes the session will bring out a strong message of our commitment to women being relevant to the society.
Baroness Lynda Chalker, former UK Minister of State for Overseas Development and Coordinator of the President's Honorary International Investor Council said ending violence in Africa will need the help of men. She said further that there national and state politicians need to help raise public awareness of the issue of violence against women and girls.
Shade Bembatoum – Young, President Zonta International, Rita Akpapuna, Counsellor, Project Alert and Amy Oyekunle, Executive Director, Kudirat Initiative for Democracy (KIND) all spoke on how to end violence against women.
A highlight of the seminar was the signing of a petition by staff of the British Deputy High Commission, Lagos for legislation to end violence against women and girls in Nigeria, which will be passed to the State House of Assembly.
Published 25 March 2013