World news story
British High Commission marks International Day Against Homophobia and Transphobia
The High Commission marked IDAHO with a presentation of a cheque to Equal Ground, a non-profit organisation seeking rights for this community in Sri Lanka.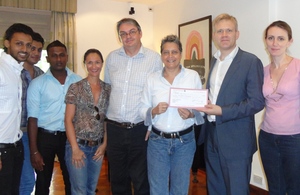 The date of 17 May was specifically chosen to commemorate the World Health Organisation's decision in 1990 to declassify homosexuality as a mental disorder. IDAHO draws the attention of policymakers, opinion leaders, social movements, the public and the media to this issue.
The British High Commission Colombo marked IDAHO with a presentation of a cheque by the Deputy High Commissioner, Robbie Bulloch, to Rosanna Flamer-Caldera, Director of Equal Ground, a non-profit organisation seeking human and political rights for the Lesbian, Gay, Bisexual, Transgender, Intersex and Questioning (LGBTIQ) community of Sri Lanka.
Speaking at the occasion, the Deputy High Commissioner said:
Many countries still deny their citizens the right to live according to their preferred gender identity. The UK views this as an injustice in the 21st century context. The British Government has been campaigning worldwide for the rights of these communities and people.
In almost 80 countries around the world, loving someone of the same sex is still considered illegal – at times involving lifetime imprisonment – and in nine countries, it is even punishable by death.
The United Kingdom decriminalised homosexuality in 1967. Last year, the UK topped a "Rainbow Map" of Europe, which found that the UK offered the best legal human rights to LGBT people of any country on the continent.
The United Kingdom has emerged as a major hub for commemorations around the IDAHO. Many of the best and brightest of the UK LGBTQI scene and allies will be speaking out with conviction on 17 May, 2013. For a full and up to date list of events, see the dedicated IDAHO UK site.
For more photos of the event can be obtain from our Flickr
Published 17 May 2013