World news story
British High Commission launches a Chevening Alumni Think Tank
The British High Commission yesterday launches the Chevening Alumni Association of Pakistan. The event also welcomed home the Chevening scholars of the class of 2013/2014 who recently returned to Pakistan after completing their one year Masters programmes in the UK.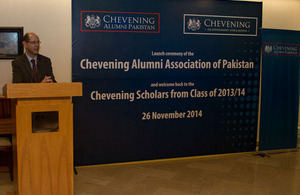 Chevening scholarships offer potential future leaders of Pakistan the opportunity to study for a post-graduate qualification in the UK. Upon their return home, they become a member of the 1,300-strong Pakistan Chevening alumni community. They can now join the Chevening Alumni Association of Pakistan which aims to become a think-tank to raise and discuss alumni-led solutions to various issues pertaining to the social, economic and broader development of Pakistan.
Opening the event, the British High Commissioner to Pakistan Mr. Philip Barton CMG OBE said:
I welcome and thank all who are here today to launch the Chevening Alumni Association of Pakistan. This new network of Chevening Alumni is a sign of the strong bilateral relations between the UK and Pakistan. Through alumni-led events, workshops and seminars, the network will work towards identifying solutions to the social, economic and development challenges facing Pakistan.
We are proud of the Chevening alumni and the important contribution they are already making towards Pakistan's development. The Chevening Programme brings immediate benefits for individual scholars and also delivers long-term benefits for both Pakistan and the UK. The creation of this alumni-led association offers a platform for our alumni – whether they are in bureaucracy, business, education, energy, media or other fields - to roll up their sleeves and to share their ideas on strengthening Pakistan. I look forward to seeing the programme of the first Chevening debates in spring 2015.
Notes to the editor:
Contact: Press Attaché, British High Commission, Islamabad; tel. 92 51 2012000
Published 27 November 2014