World news story
British High Commission Islamabad celebrates Standard Chartered's 150 years in Pakistan
British bank Standard Chartered is the largest and longest-serving international bank in Pakistan.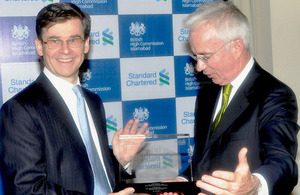 British High Commission Islamabad hosted a reception in Islamabad to celebrate Standard Chartered's 150th anniversary of operations in Pakistan. The British bank is the largest and longest-serving international bank in Pakistan.
British High Commissioner Adam Thomson and Standard Chartered C.E.O., Mohsin Ali Nathani welcomed to Pakistan Standard Chartered Global Chief Executive, Peter Sands and its Executive Director Europe, Middle East, Africa and Americas, V. Shankar. They were joined by business leaders, diplomats and members of the media to celebrate the banks momentous anniversary and its enduring connections with Pakistan.
UK Trade and Investment have worked with Standard Chartered across its 121 branches in 24 Pakistani cities. The British bank employs over 4,500 Pakistani employees.
Speaking to the guests, the British High Commissioner to Pakistan Adam Thomson said:
Trade between the UK and Pakistan is an important, vibrant example of the strength and depth of our bilateral relationship.
And Standard Chartered is a great example of how a prestigious British brand can create jobs back in the UK, but also here in Pakistan.
Standard Chartered should be congratulated for enhancing the banking sector here in Pakistan by introducing advanced practices and expertise from the UK and from some of the world's most dynamic markets in Asia, Africa and the Middle East.
Partnerships such as this will contribute towards achieving our new goal of increasing trade between our two countries every year to £3 billion by 2015, as announced by my Prime Minister during his recent visit to Pakistan this weekend.
The British Government, UK Trade and Investment and other partners are working together to support new business startups and growth in Pakistan. Through our network of UK Trade and Investment officials, we have been providing all the advice, inspiration and practical help businesses need to turn into a working, profitable business.
Contact: Press Attaché, British High Commission, Islamabad; tel. 051 201 2884.
Published 5 July 2013