World news story
British High Commission hosts university debate on the Magna Carta
The British High Commission hosted a university debate on the Magna Carta and its modern day relevance. The event was held to mark the 800th anniversary of the sealing of the Magna Carta, a document that has paved the way for modern day democracy.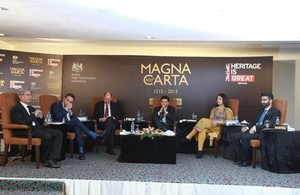 The event was attended by figures from government, media, the diplomatic community and civil society as well as Chevening alumni, academics and students from six universities in Islamabad and Rawalpindi. The British High Commission used the Magna Carta anniversary as an opportunity to engage with young Pakistanis on the issues that matter to them.
The students debated the top priorities raised in an online campaign. This asked people to use the hashtag #IWouldVoteIf to say what mattered most to them; what would make them go out and vote. A pledge wall at the event also provided participants with an opportunity to express their views.
The students also engaged in a question and answer session with a distinguished panel comprising the British High Commissioner, Philip Barton CMG OBE, Senator Aitzaz Ahsan, Head of UNDP, Marc-Andre Franche, Head of the UN Women Pakistan, Jamshed Kazi, TV anchor and host, Fereeha Idrees and Daniyal Hasan, Law Graduate from the University of London and Youth Group Director at the Pakistan-U.S. Alumni Network.
Speaking at the event, the British High Commissioner, Philip Barton CMG OBE said:
Today marks 800 years since the sealing of the Magna Carta, paving the way for the development of parliamentary democracy as we know it. The significance and enduring legacy of the Magna Carta lie in the principles it embodies: equality before the law, accountability and due process. These are absolutely vital in building the strong institutions necessary for political and economic stability. In other words, the State must be answerable to its citizens. Rule of law, good governance and freedom of speech provide the foundations for nations to innovate, prosper and thrive.
I am delighted to have the opportunity to debate these principles today with university students from Islamabad and Rawalpindi and to hear about the issues that matter to them. Young people in Pakistan account for around two thirds of the total population and almost half of registered voters in the 2013 Pakistan elections were aged between 18 and 35. That is a tremendously powerful collective voice. I have been deeply impressed by the sheer energy and enthusiasm of those participating in our debates today. It is clear how important and relevant the themes of freedom of expression and rule of law are to young democracies like Pakistan.
The UK has made an 800 year journey to embed in our society the principles symbolised by the Magna Carta. We strongly support Pakistan as it continues on its own democratic journey.
Notes to the editor:
Contact: Press Attaché, British High Commission, Islamabad; tel. 051 201 2000
Published 16 June 2015