World news story
British High Commission hosts international rugby matches
The British High Commission hosted friendly rugby matches between the Pakistan Rugby Union and an international team of British, Canadian, American and Australian players.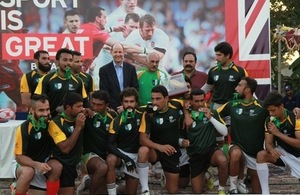 The event marked the start of England's preparations to host the Rugby World Cup 2015. The British High Commissioner to Pakistan, Philip Barton CMG OBE, hosted the event, along with the Canadian High Commissioner Greg Giokas. After an intense round of separate matches for women's and men's teams, Philip Barton and the President of the Pakistan Rugby Union Mr Khawaja Mohammad Fawzi presented the men's Pakistan National Rugby team and the women's International team with trophies.
Speaking at the concluding ceremony, the British High Commissioner said:
We are delighted to host these friendly matches between the Pakistan Rugby Union and our team of international players. Just as rugby is a sport that brings together players of all shapes and sizes into a single team, I hope today's event will have strengthened the sporting links between our countries. It has also been a good opportunity to look forward to the Rugby World Cup taking place in England next year. I would like to wish Pakistan's National Rugby Team good luck for the Asian Games particularly the Rugby sevens events. It's great to see Rugby becoming a popular sport in Pakistan.
I would like to thank the respective High Commissioners and representatives from the other missions for their presence this evening. A special thanks to the President of the Pakistan Rugby Union and their players for making the journey all the way from Lahore for today's matches. I am delighted the High Commission has again been able to use sport to bring people together.
ENDS
Contact: Press Attaché, British High Commission, Islamabad; tel. 051 201 2000
Published 21 September 2014