World news story
British High Commission hosts farewell reception for 2016/17 Chevening Scholarship Awardees
A reception was hosted for Chevening Awardees Azizul Azri Haji Majit and Khairunnisa Ash'ari at the British High Commissioner's Residence.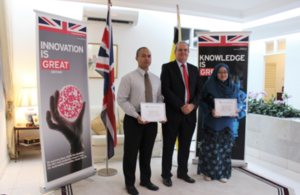 On Tuesday 30 August 2016, the British High Commission hosted a farewell reception for Azizul Azri Haji Majit and Khairunnisa Ash'ari who have been awarded the prestigious Chevening Scholarship for the 2016–2017 session and will be pursuing their postgraduate studies in the United Kingdom next month. The farewell event was held at the Residence of the British High Commissioner to Brunei.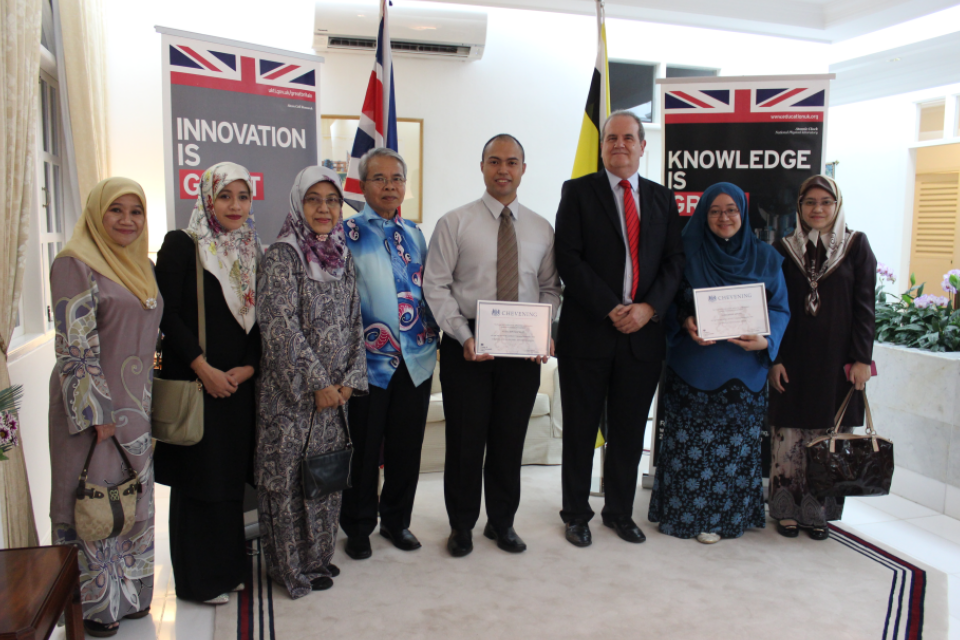 Azizul Azri Haji Majit, who is an Administrative Officer 1st Grade at the Youth and Sports Department, will be pursuing an MSc in Sustainability and Management at Royal Holloway, University of London. Common to members of the Brunei Administrative Service, he has been rotated around government agencies, and previously was attached to Tutong District Office and Temburong District Office.
To be awarded the Chevening Scholarship is truly the defining moment in my life and it is nothing short of surreal.

I am extremely honoured and privileged to be accepted into the Chevening community, to be a member of an international network of leaders and exceptionally outstanding individuals.

I will be studying MSc Sustainability and Management at Royal Holloway, University of London which is recognized as one of the UK's leading research intensive universities.

I am always attentive towards the issues concerning sustainability, and desire to explore more on how concepts in sustainability can be integrated in governance and management.

To be able to explore broader aspects in how business and sustainability can work in tandem really fascinates me to take up this discipline.
Azizul added:
Upon returning home from my Master's degree, I also see myself to be heavily involved in advocating and developing policies that gear towards social and economic sustainability, particularly via entrepreneurship among the youths of Brunei.

This can be achieved by laying out the foundations of policies in my department that encourages investments on entrepreneur projects and facilitations that are in line in the realization of the Brunei Vision 2035.
Khairunnisa Ash'ari, Co-Founder and Community Engagement Director at Green Brunei, will be pursuing an MA in Environment, Politics and Globalisation at King's College London.
My work with Green Brunei has always been a result of experiences I had from conferences and training abroad.

The opportunity to strengthen my knowledge in the field of environment can contribute towards better actions and better results in the future.

The impact of climate change is becoming more apparent and there is a need for stronger regional efforts in combating this issue.

The course I am undertaking will also have a strong focus on politics and globalisation, which would contribute a lot towards our advocacy efforts in this field.

As a Chevening scholar, I believe it helps to open up more doors for me.

I now have more opportunities to expand my network with Commonwealth youth leaders, learn from their experiences and be part of a prestigious alumni.
The British High Commissioner H.E. David Campbell, said:
We are delighted to have two such outstanding candidates in 2016 and each will receive a Chevening scholarship fully funded by the British Foreign & Commonwealth Office.

Both will be studying environmental and sustainability issues of global importance.

I am sure their studies will enable them to make a significant contribution to national development on their return to Brunei Darussalam.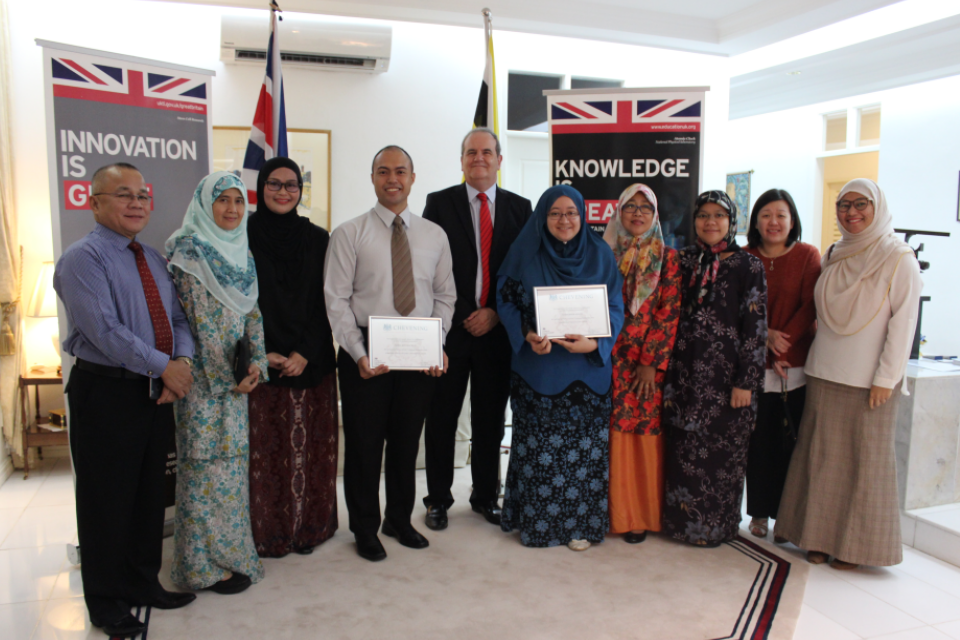 The High Commissioner went on to note that applications for the 2017/18 Chevening Scholarships were currently open to citizens and permanent residents of Brunei Darussalam. The ideal candidate would be in early to mid career, with at least 2 years' work experience and an excellent record of achievement which showed evidence of leadership qualities. Applicants should be committed to returning and contributing to Brunei's social and economic development by utilising skills and knowledge acquired in the UK.
All those interested in applying for the 2017/2018 Chevening scholarship should visit www.chevening.org/Brunei where potential applicants can find information on how to apply, register interest to receive alerts about their application and candidate guidance, as well as to see the priority subjects for Chevening Scholarships. The deadline for applications is 8 November 2016.
Further information
Follow the FCO Chevening Scholarship Scheme on Facebook and Twitter.
Photos from the event can be found on our UKinBrunei Flickr.
Published 1 September 2016