World news story
British High Commission hosts debate on ENDING sexual violence
This was published under the 2010 to 2015 Conservative and Liberal Democrat coalition government
The British High Commissioner to Pakistan, Mr. Philip Barton CMG OBE, hosted a debate in Islamabad, on the UK's 'Ending Sexual Violence' Initiative.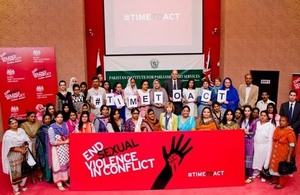 This event forms part of a global relay of events being organised by 145 British Diplomatic Missions worldwide, to coincide with the Global Summit to End Sexual Violence in Conflict in the UK, on 10-13 June 2014.
The debate involved members of the Pakistan National Assembly, representatives and experts from civil society, academia, nongovernmental organisations and the media. Keynote speakers at the event included Asiya Nasir, Member of National Assembly, Yasmeen Rehman, former Parliamentarian and Advisor to Prime Minister on Women Development, and Fauzia Nasreen, former Pakistani diplomat.
Speaking at the event, the British High Commissioner to Pakistan, Philip Barton said:
The use of sexual violence is one of the great injustices of our lifetime. According to the British Council Pakistan "The Next Generation: Insecure Lives, untold stories 2014" report, one third of married women in Pakistan have experienced physical violence at least once in their lifetime, and domestic violence accounts for 27% of conflicts in Pakistan. In 2013 alone, 869 women were murdered in so called 'honour killings.
Sexual violence is a crime like no other. Women and men are made to suffer its horrors in conflicts around the world. Many victims are very young girls and boys. But we firmly believe that this can – and must – change.
Some important progress has been made in Pakistan to prevent the horrific crime of sexual violence. Some of our honourable guests here played a major role in introducing and moving the four important bills in Parliament and Senate to help protect women and strengthen their rights. These include bills on Prevention of Sexual Harassment in the Workplace, Acid Crime and Control, Prevention of Anti Women Practices and Domestic Violence.
The UK stands with Pakistan in committing to concrete action that will help remove rape and sexual violence from the world's arsenal of cruelty. We are working with the Government of Pakistan and various non-government organisations to support implementation of legislation tackling domestic violence, honour killings, sexual harassment, acid burning, and unequal rights in marriage and inheritance. Over the last eight years, we have provided counselling and legal aid to 35,000 women victims of violence.
The UK is also working closely with provincial governments and partners to empower women through education and economic means. By 2015, the UK will facilitate over a million microfinance loans to poor women, helping them to lift their families out of poverty. By 2015, four million children will have benefited from the UK Aid's education programmes, half of whom are girls."