World news story
British High Commission holds conference on International Women's Day
The British High Commission in Islamabad today hosted a conference in advance of International Women's Day.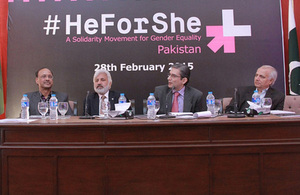 The conference focused on women's empowerment and the importance of supporting women in achieving their potential. The conference was held in collaboration with the United Nations Entity for Gender Equality and the Empowerment of Women (UN Women Pakistan), United Nations Development Programme Pakistan (UNDP Pakistan), and the UK's Department for International Development Pakistan (DFID Pakistan).
The daylong Conference included panel discussions on a range of topics including the role of men women's empowerment and the role of media in women's rights. The discussions invited high profile panellists working for women rights awareness in Pakistan. The panellists include Nigar Nazar, CEO Gogi Studios, Shahid Nadeem, Executive Director Ajoka Theatre, Omar Aftab, CEO Women Empowerment Group, Qadeer Baig, Country Representative, Rutgers World Population Fundation Pakistan, Asma Shirazai, Senior Vice President, BOL TV, and Aasiya Nasir, Minister for National Assembly.
The conference also gave an opportunity to students from Lahore University of Management Sciences, Bahria University, Iqra University, ARID Agriculture University, Pakistan Institute of Development Economics (PIDE) and Riphah University to showcase their presentations on different topics related to women empowerment in all aspects of society.
Richard Montgomery, Head of Department for International Development Pakistan, Jamshed M Kazi, Country Representative of UN Women Pakistan, Marc Andre Franche, Head of UNDP Pakistan and Jennifer Cole, Political Counsellor, British High Commission also joined the panel discussions
Speaking at the event, Richard Montgomery, Head of DFID Pakistan said:
Today"s event provided a wonderful opportunity for us to hear the diverse views of the distinguished panellists and those of Pakistan"s future leaders who will undoubtedly go on to shape opinions in the future. It is important for both men and women to have a conversation on men"s role in addressing the challenges facing women and how they can assist in women empowerment. Equality between men and women is a fundamental right. Reducing gender discrimination will not only lead to a fairer society, but a stronger economy and a more prosperous country.
Marc Andre Franche, Country Representative UNDP, said:
UNDP supports a range of efforts to improve the position of women in Pakistan, including in the justice sector, police force, community organizations, parliamentarians and aspiring women candidates. Empowered women and girls have a truly transformative role to play in Pakistan. Evidence consistently shows that where women are given opportunities, societies develop more rapidly. We will continue to take steps to empower women and achieve gender equality as a way to fight poverty.
In promoting the HeForShe movement in Pakistan Jamshed M. Kazi, Country Representative, UN Women emphasized the need for a united effort to galvanize momentum:
With women constituting half the population of Pakistan, the HeForShe campaign will encourage "the other half" to speak out and take action against inequalities faced by women and girls. We are engaging men as champions for change; a change where women can live a life free of inequalities and discrimination.
Further Information
Contact: Press Attaché, British High Commission, Islamabad; tel. 051-201-2000
Published 28 February 2015