World news story
British High Commission charity ball goes off with a bang!
British High Commission New Delhi hosted the Guy Fawkes Charity Ball on Saturday, 7 November.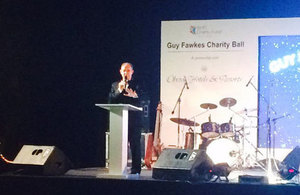 Over 350 members of Delhi's diplomatic and business community celebrated Guy Fawkes's failed attempt to blow up the British Parliament, at the British High Commission's Guy Fawkes Charity Ball on Saturday, 7 November.
Guests were treated to a three course meal, dazzled by fireworks and danced the night away in order to raise money for the British High Commission's charity fund.
Thanks to the generosity of guests, the ball's partner, Oberoi Hotels & Resorts, and the sponsors including the BIRD Group, Virgin Atlantic and Mercedes Benz the ball is estimated to have raised over 18 lakh rupees. All proceeds from the event will contribute to specific education projects in Delhi run by the NGOs Adharshila, MESH and Adi Gram Samiti .
The British High Commissioner to India, Sir James Bevan KCMG, hosted the event at his official residence at 2 Rajaji Marg.
He said:
I am so pleased that we were able to raise so much money for three fantastic NGOs based in the Capital.
This is the main annual fundraising activity for the British High Commission's charity fund and we are hugely grateful to both the event's guests and our sponsors for their generosity. This money will help these charities carry out important work to better the lives of disadvantaged people in Delhi. I leave Delhi soon. It was a fantastic note to end on!
The charity auction and raffle allowed guests the chance to win holidays in some of South Asia's most luxurious resorts including Oberoi's Vanyavilas, Rajvilas, Udaivilas and Amarvilas as well as Aman's resorts Amangalla and Amanwella both in Sri Lanka. Other prizes included return upper class flights to London with Virgin Atlantic, a Burberry handbag and membership at Delhi's private member's' club A Ta Maison.
The highest bid of the night, in the charity auction, was 2 lakh rupees for three nights at the Oberoi Udaivilas, Udaipur.
The ball's theme came from the historical figure Guy Fawkes, who planned to blow up the British Parliament on 5 November 1605. His attempts were foiled and he was caught and burnt at the stake. Each year people across the UK celebrate this festival by having a bonfire, often burning an effigy of Guy Fawkes, and letting off fireworks.
Stuart Adam, Head,
Press and Communications
British High Commission, Chanakyapuri
New Delhi 110021
Tel: 44192100; Fax: 24192411

Follow us on Twitter, Facebook, Instagram, Flickr, Storify, Eventbrite, Blogs, Foursquare, Youtube, Vine, Periscope @UKinIndia, Snapchat @UKinIndia
Published 10 November 2015