World news story
British High Commission Celebrates Commonwealth Day
British High Commission Tanzania marks Commonwealth Day and looks ahead to arrival of Queen's Baton in Tanzania 8-11 April; and to Commonwealth Heads of Governments meeting in London in 2018.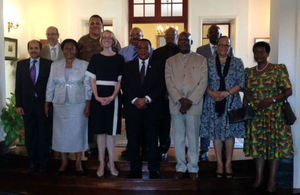 British High Commissioner, Sarah Cooke and staff have been marking Commonwealth Day in Tanzania.
Last week, the High Commissioner hosted a Commonwealth afternoon tea at her Residence with Minister of Foreign Affairs, Hon. Amb. Dr. Augustine Mahiga and Commonwealth Heads of Missions to Tanzania. They discussed the importance of Commonwealth family, shared values, trade and investment opportunities and how the Commonwealth plays a key role in tackling global issues like climate change and building peace and stability.
The High Commissioner put out a message for Commonwealth Day as part of a relay of messages from high commissioners across the Commonwealth.
Her Majesty The Queen, as Head of the Commonwealth, gave her annual Commonwealth Day message [link] and attended a special service with other members of the Royal family at Westminster Abbey in London.
Britain's Foreign Secretary focussed on a strengthened partnership with the Commonwealth to deliver prosperity and economic growth- View his message here
Queen's Baton Relay
Next month Tanzania will receive the Queen's Commonwealth Baton as it makes its journey round the Commonwealth. It will be in Tanzania from 8-11 April. The Tanzania Olympic Committee are organising a special relay through the streets of Dar es Salaam with the Baton, and are also taking it to Arusha where Tanzanians will be given the opportunity to be part of the Baton's journey.
Her Majesty Queen Elizabeth II started the special Commonwealth Games Baton relay off from Buckingham Palace on Commonwealth Day. The baton will end its journey on Australia's Gold Coast next year in time for the 2018 Commonwealth Games which begin on 4th April 2018. The relay will span 388 days, 71 countries and cover more than 200,000 miles. Following tradition, the Queen placed a special message inside the baton, which will be read out at the opening ceremony of the Commonwealth Games.
Commonwealth Heads of Government Meeting- 2018
The UK is set to host the next Commonwealth Heads of Governments meeting in London next year. It will provide a platform for setting a new, reinvigorated vision of a strong and effective Commonwealth.
"The Commonwealth is a top priority for the UK", said High Commissioner Sarah Cooke, "We believe it is a unique organisation with a network that can deliver on global issues like no other. We are committed to the Commonwealth's strong and vibrant future".
Published 14 March 2017