World news story
British High Commission and UNIC calls for bigger role for women in Pakistani media
The UN Information Centre and the British High Commission paid tribute to the outstanding female journalists in Pakistan, to mark International Women's Day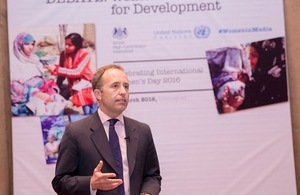 The event featured women journalists with different backgrounds talking about their jobs, their commitment and the specific challenges and dangers they face in the course of their work, especially while reporting on development issues.
The event was attended by high profile guests including representatives from media, diplomatic community, government and academia and development sector.
Speaking at the event, the British High Commissioner-Designate to Pakistan, Thomas Drew CMG said:
I think this is an exciting moment not just for media, but for women in Pakistan in general. There is a new generation of quality journalists coming through, who happen to be women - like many of our guests today – and they are picking up the baton to fight the most important battles every day.
Female journalists in Pakistan cover some of the country's most pressing concerns. Some have chosen to focus on investigative reporting, covering human rights violations, corruption, development or other subjects that are off-limits in their society.
Media and cultural representations of women in any society have a huge impact on how girls and women are viewed and view themselves, Girls education, especially, has a key role in shaping public attitudes to women and women's equality. Therefore, girls' education is at the heart of the UK's development work in Pakistan. Over seven million girls in primary and secondary schools of Pakistan benefit from the UK's largest education programme in the world, enabling them to stay longer and learn better.
We want to be at the forefront of the debate about how we get a more diverse and representative press to empower and help more than half of Pakistan's population reach its full potential. A country prospers only if and when both its men and women are allowed to depict their talent and contribute something to the society to make it a better place to live in.
The Director UN Information Centre, Vittorio Cammarota said:
Media plays a crucial role in development: reporters have access to very large audiences and therefore can contribute to disseminate information on peace, tolerance, education, gender equity and many more topics relevant to development. The Pakistani media scenario has been growing rapidly in the past years. However the number of women currently involved is far too low. Our objective is to increase the number of women working as reporters, photo-journalists, producers, anchors.
We also aim at having a larger number of women engaged in key positions in the media industry. Last but not least, we need to facilitate the expansion of female audiences by ensuring that more women have access to education across the country.
Speaking at the event renowned TV anchor and journalist, Fereeha Idrees said:
It is indeed a happy time in Pakistan for women with new laws being proposed and passed for their protection and female issues being highlighted on international level by Pakistani women. However, amidst this frenzy let's not forget the challenges facing women are stark and glaring. There is a scary misogynistic approach rampantly prevalent in our country against all empowered women like Malala, Sharmeen and anyone who stands up to defend them. We must make a resolve to curb these.
Contact: Press Attaché, British High Commission, Islamabad; tel. 051 201 2000
Notes for Editors
You can participate and follow the debates using the hash tag #WomenInMedia
The British High Commissioner Designate to Pakistan, Thomas Drew tweets at @TomDrewUK
The Director of the UN Information Centre, Vittorio Cammarota, tweets at @UNIC_Pakistan
Published 8 March 2016