News story
BRITISH HIGH COMMISSION SUPPORTS GHANA'S CRIMINAL JUSTICE SYSTEM
The British High Commission in Accra, Ghana has organised a conference to help identify practical and realisable ways to improve the Criminal Justice System (CJS)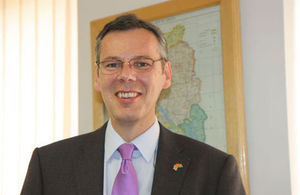 The British High Commission in Accra, Ghana has organised a conference to help identify practical and realisable ways to improve the Criminal Justice System (CJS). The programme aimed to identify specific actions which agencies could implement in a short time as well as those which could be part of the CJS wide programme of a development partner.
In his opening speech the British High Commissioner to Ghana, Mr Peter Jones stated "What use is the right to trial in a reasonable time to the person sitting in a prison cell with forty others waiting for trial for four years for an offence for which the maximum sentence is three years. Or the person who waits for four years for any offence. What use are rights to the adult or the child who has been sexually abused if the abuser is never brought to trial for lack of proper investigation, or a system that lends itself to defeat by delay, or if the victims themselves as witnesses are abused by a system that fails to recognise their vulnerability".
He therefore urged the participants to channel their time and energy to advancing justice in Ghana and challenged them to take heed of no consideration other than the advancement of justice, - "justice for that person waiting in the cell for trial, for that vulnerable person, for that abused child, for rights and freedoms for everyone, for every day".
Ghana's Chief Justice, Her Ladyship Georgina Wood, gave the keynote address and the Minister of Justice and Attorney General, Mrs Marietta Breuw Appiah-Opong, gave a leading address. Representatives from Ghana's Judiciary, the Police Service, the Prisons Service, the Legal Aid, the Narcotics Control Board, the Economic and Organised Crime Office (EOCO) and the Financial Intelligence Center devoted the day to devising practical and realisable recommendations for action.
The event was organised by the Criminal Justice Adviser of the British High Commission Accra, Ghana.
Published 14 August 2013
Last updated 15 August 2013
+ show all updates
Corrected some errors
First published.