British helicopter crews support Afghan elections in joint ISAF mission
British Lynx crews from the Joint Helicopter Force (Afghanistan), in partnership with their US colleagues and Afghan pilots from the Afghan Air Force (AAF), have been transporting ballot boxes, material and personnel to the town of Musa Qal'ah in support of the Afghan elections.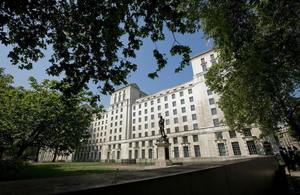 Just as coalition forces on the ground regularly conduct joint patrolling, AAF personnel from the Kandahar detachment using Mi-17 helicopters have been training with instructors from the 441st Air Expeditionary Advisory Squadron of the United States Air Force to conduct missions across Helmand.
British Lynx Mk9A crews have been supporting these operations by providing escort and overwatch capabilities. The Lynx Mk9A is employed in Afghanistan in a close air support role.
Major Dan McBride, Joint Aviation Group Afghanistan, said:
Due to the topography of Afghanistan and the indiscriminate nature of improvised explosives devices, supporting the election on the ground can be open to disruption.

The best and most effective means of achieving the electoral process in hard to reach areas is, therefore, to utilise aviation - specifically helicopters to support the procedure.
Group Captain Nick Laird, Commander Joint Aviation Group, added:
The Afghan transport helicopters can only go to certain areas unaccompanied. We assist them with escort duties into those areas that have a higher threat.

We provide those escort aircraft by either using Lynx or Apache.
The Afghan Air Force is equipped with the Mi-17 or 'Hip' aircraft, which is a Russian-built helicopter designed to fly in 'hot and high' conditions.
Using the Mi-17 helicopters, the 441st Squadron fly as flight advisors to both the AAF pilots and crewmen in a bid to improve their skill sets as military aviators.
US Air Force Lieutenant Colonel Todd Prejean, Commanding Officer of 441st Air Expeditionary Advisory Squadron, said:
We do all types of training. I've done gunnery training with them; I've done rocket training with them. We'll do sling load training with them here shortly, just normal basic flying training, aerospace training - anything that would make them professional aviators.
He continued:
What we did yesterday was expose them to something a little different, a little more advanced. They've never seen a Lynx before as far as I'm aware.

We've worked with the British a little bit - so any time we can expose them to other professional organisations, what it does for us is it shows them that this is not the American way, all professional aviation forces do it this way, so it reinforces their lessons.
Lynx pilot Warrant Officer Class 2 Jon Earp said:
This mission signifies a massive step forward; I was here three years ago when we were delivering their election materials - there was no Afghan involvement whatsoever.

However, three years later, the Afghans are flying their own election papers to their own people. That, as far as I'm concerned, is a step forward and a step in the right direction.
Published 20 September 2010