British health workers to join fight against maternal deaths
British nurses, doctors and health workers will get the chance to play a crucial role in the UK's efforts to reduce maternal and child deaths in the world's poorest countries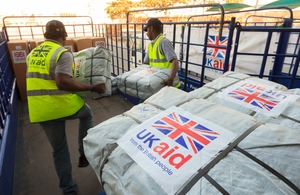 British nurses, doctors and health workers will get the chance to play a crucial role in the UK's efforts to reduce maternal and child deaths in the world's poorest countries, International Development Secretary Andrew Mitchell announced today.
A new £5 million fund will enable British health professionals to share their skills with birth attendants, nurses and doctors in developing countries through teaching, training and practical assistance. 
Up to 50 international partnerships will be established between the NHS and UK institutions - such as the Royal Colleges and the National Institute of Clinical Excellence - and developing countries' health systems. The partnerships will provide direct support and expertise between medical institutions to raise professional standards.
Partnerships will be encouraged to support the use of innovations in technology, such as live internet link-ups and the use of mobile phones for emergency referrals and operations.
In addition an electronic database will be established to match requests for help from developing countries against offers from other countries, including the UK, to provide health assistance.
Andrew Mitchell said:
"It is utterly shocking that every year over 500,000 women around the world die from complications during pregnancy and childbirth.
"Childbirth should be about life not death. Tackling the tragic scale of maternal and child deaths will be a key priority for the new Government.
"Britain's nurses, midwives and medical teams are some of the best in the world and can help to give developing countries the skills needed to improve women's health."
A decade ago, the world set itself the target of reducing maternal mortality by 75 per cent by 2015. Today, the maternal health Millennium Development Goal remains dangerously off track.
This week the Prime Minister and Stephen Harper, the Canadian Prime Minister, agreed to make maternal mortality a top priority both at the G8/G20 meetings in Toronto next month - and the major UN summit on development later in the year.
Published 4 June 2010