World news story
British Government Minister visits Uganda
DFID Minister Lynne Featherstone highlights the importance of disability issues in development, during four-day visit to Uganda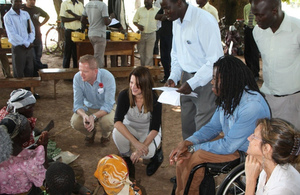 Lynne Featherstone, Parliamentary Under-Secretary of State at the UK Department for International Development (DFID), visited Uganda from 22 to 25 October. Lynne Featherstone's Ministerial portfolio includes responsibility for DFID's programmes in Africa, as well as for disability issues. She visited Uganda with British Paralympic star Ade Adepitan, to see how Uganda is changing attitudes to disability and to experience at first hand the work of organisations that provide training, livelihoods and education programmes for disabled people. Mrs Featherstone used her visit to focus on the lessons that can be learnt from the work of these organisations, and what more can be done to improve the lives of disabled people living in Uganda and in other parts of the developing world.
During her visit, the Minister travelled to Soroti, a town in Eastern Uganda In Soroti, she visited a school for visually impaired children supported by the UK under the Olympic Legacy International Inspirations. She also met local Soroti officials and organisations to learn more about the challenges faced by people with disabilities at the local level, and saw work supported by the UK to mainstream disability into efforts to increase access to clear water and sanitation. The Minister also visited a district where the UK is supporting the Government of Uganda to pilot the provision of a cash transfer to vulnerable families. In Kampala, Mrs Featherstone met the Prime Minister and the Ministers of Gender, Health and Finance. She also spent time with the Paralympic and Special Olympic Committees and their athletes.
It is estimated that more than one billion people in the world (one in seven) live with some kind of disability. Ion Uganda, over five million people (one in six) have a disability. According to recent surveys, more than two thirds of people with disabilities in the Northern region of Uganda are living in a state of chronic poverty. Uganda is at the forefront of the disability movement in Africa and Mrs Featherstone used her visit to develop a better understanding of successful development strategies for meeting the needs of disabled people.
Mrs Featherstone's visit was widely featured in the Ugandan media, and she wrote an editorial that was published in two national newspapers during her visit.
Published 1 November 2013