World news story
British Foreign Secretary William Hague visits Manila
UK Foreign Secretary William Hague will visit the Philippines this week, taking up a personal invitation to visit from Philippine Foreign Affairs Secretary Albert del Rosario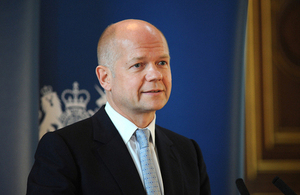 Speaking ahead of his visit, Foreign Secretary William Hague said:
As seen by the overwhelming international response to Typhoon Yolanda, of which the UK was proud to be a leading part, the Philippines and Filipinos have many friends. I am determined that the UK will continue to be one of them; a friend in times of need, and a long term partner in prosperity helping build trade and investment, increasingly working together abroad to ensure that the values we share can be enjoyed by many more around the world.
I am also delighted to be in Manila just a few days after the successful conclusion of negotiations on a comprehensive peace agreement in Mindanao, to welcome this significant step and meet some of those involved.
The Foreign Secretary is here as part of a two-country visit, which also includes a visit to Indonesia.
During his one-day visit to the Philippines, the Foreign Secretary will call on President Benigno Aquino III, Vice President Jejomar Binay and Secretary of Foreign Affairs Albert del Rosario. He will also deliver a major speech on the UK relationship with Asia, including his views on how the ASEAN region should evolve to meet the challenges of the Asian Century.
Published 29 January 2014