Press release
British firms explore trade opportunities in Mexico and Colombia
A trade mission to Mexico & Colombia by medium-sized British businesses begins today, focussing on high value opportunities in key sectors.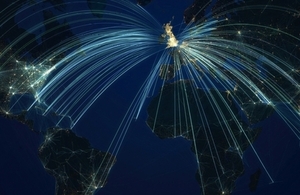 A four-day trade mission to Mexico and Colombia by medium-sized British businesses begins today, focussing on high value opportunities in key sectors.
Trade and Investment Minister Lord Green leads more than 16 British firms on the trade mission, exploring opportunities to win high value contracts in the infrastructure, security, and oil and gas sectors.
The group, which includes representatives from NATS, IHG, De La Rue and Delcam, will meet key government and business community figures in both Mexico and Colombia.
They will take part in seminars, discussions and site visits, giving them the chance to gain useful knowledge of the market and engage with potential commercial partners.
Trade and Investment Minister Lord Green said:
This is an exciting time for UK trade with Colombia and Mexico. Our relationship with these two dynamic countries is already close and has been for many years. This mission will develop even stronger commercial partnerships.
The markets in Colombia and Mexico are gaining ever-greater recognition and have much to offer the UK. They are both high growth markets with many opportunities for innovative and skilled businesses to take advantage of.
As we seek to boost our exports worldwide, it is vital for companies based in Britain to secure more high value successes and to fully develop our trading links with emerging markets. We are working hard to help companies like those who are part of this trade mission achieve their full potential, delivering jobs and growth in communities around the UK.
Notes to editors
The trade mission will take place from 4-8 March 2013, visiting Mexico City and Bogota.

UK export of goods to Mexico in 2011 was valued at £952 million. Mexico is one of the largest markets for luxury goods in Latin America, including cars. It currently produces slightly more than two million vehicles per year.

Colombia enjoyed almost 6% growth in 2011 and 4% for 2012. Colombia is one of the most open markets in Latin America and enjoys eleven free trade agreements. In the last year, Colombia has finalised Free Trade Agreements with the US, Canada and South Korea; and agreement with the EU will come into force this year. Britain is currently the second biggest overseas investor in Colombia.

The government's economic policy objective is to achieve 'strong, sustainable and balanced growth that is more evenly shared across the country and between industries.' It set four ambitions in the 'Plan for Growth' (PDF 1.7MB), published at Budget 2011:

To create the most competitive tax system in the G20
To make the UK the best place in Europe to start, finance and grow a business
To encourage investment and exports as a route to a more balanced economy
To create a more educated workforce that is the most flexible in Europe. Work is underway across government to achieve these ambitions, including progress on more than 250 measures as part of the Growth Review. Developing an Industrial Strategy gives new impetus to this work by providing businesses, investors and the public with more clarity about the long-term direction in which the government wants the economy to travel.

UK Trade & Investment (UKTI) is the government department that helps UK-based companies succeed in the global economy. We also help overseas companies bring their high quality investment to the UK's economy – acknowledged as Europe's best place from which to succeed in global business. UKTI offers expertise and contacts through its extensive network of specialists in the UK, and in British embassies and other diplomatic offices around the world. We provide companies with the tools they require to be competitive on the world stage. For more information on UKTI, visit www.ukti.gov.uk or visit the online newsroom.
Published 4 March 2013