World news story
British film and TV content companies making progress in Japan
The 'Japan Content Showcase 2015' set the stage for UK companies to engage in this growing multi-content market.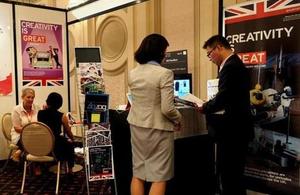 Aligned with the 28th Tokyo International Film Festival, this 3 day exhibition known as 'TIFFCOM' provided a strong gateway for British content companies. UK Trade and Investment Japan hosted a UK Pavilion to support British film and TV, supported by PACT, the British trade association for independent media.
This year's showcase brought together 347 exhibiting organisations from 24 countries and regions with 1433 content buyers from over 50 countries. Being in front of so many prospective buyers, UK delegates reflecting on the experience noted that the Japanese market is steadily becoming more accessible. They added that with the help of UKTI and its strong representation at TIFFCOM, Japan is becoming more lucrative for British content providers than ever before.
Putting the UK in the spotlight
Engagement from Japanese buyers at the UK Pavilion was high as the delegates held brief meetings with many interested parties visiting the stand. UKTI Japan was also able to promote many more UK companies who were not physically present at TIFFCOM.
Brochures listing over 200 British firms in the content industry as part of PACT's 'UK Indies' app were distributed to large numbers of quality showcase visitors. UKTI Japan staff were on hand to explain the app and encourage buyers to use it to connect with the wider UK community of diverse content types.
An expanding market
The visiting companies maintain an optimistic outlook due to the recent progress and development of international online content providers and subscription services in Japan.
In recent years, some key acquisitions have developed representing further opportunity and growth in the Japanese market:
Nippon TV acquired Hulu Japan in 2011
Amazon video debuted in 2013
Netflix Japan launched in late 2015
The rise of online platform popularity in Japan is also opening up the market to UK companies who have previously struggled to gain traction with more traditional forms of content. It is helping to eliminate barriers such as heavy trimming of documentaries as an example, which run on quite different formats for Japanese broadcasting.
Online hosting of the same content gives much more flexibility and less rules apply. Some participating delegates suggested it will be easier to successfully promote UK non-fictional content to the Japanese market in the future as a result.
Next steps
Is your company considering the Japanese content market?
Contact us for tailored advice and support for your business in this area.
Our team of local market advisers can help you understand the potential for your company in Japan.
For further information on doing business in Japan, please click here.
Published 8 December 2015