World news story
British fashion and lifestyle companies hit Japan
Thirty UK companies visited Tokyo recently on a trade mission to showcase their high quality products to Japanese buyers.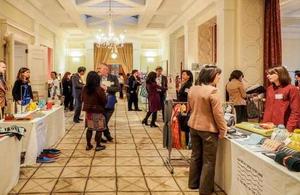 Each year the British Embassy Tokyo plays host to fashion and lifestyle companies hoping to bring new trends and unique items to the Japanese market. Ladies' and men's fashion and accessories, as well as lifestyle and beauty products were on display at the Ambassador's Residence for 2 days.
The mission provided the platform for companies to unlock substantial business prospects in Japan, exhibiting their products to major buyers and potential partners. Organised by UK Trade and Investment (UKTI) London and Japan, they were able to attract over 500 prominent Japanese buyers to the event. Support was also received by the UK Fashion and Textile Association and the British Allied Trades Federation.
Experience of the delegates
For some it was their first experience exhibiting in Japan, encouraged by the increase in orders received from many Japanese consumers online. Many explained that the demand was clearly high from consumers in this region, therefore this was the next natural step.
Visiting Japan regularly is an important element to do well in this market. It's not the closest by any means, but consumer demand is very high, so the rewards can be great for those committed enough.
For jewellery brand Katie Mullally, this was her second showcase in Tokyo with UKTI. After getting support both in the UK and Japan, the brand owner thought it was worth her time visiting again, commenting:
I am definitely getting orders, and the showcase is an amazing opportunity to meet stockists
Showcase in the spotlight
British Ambassador to Japan Tim Hitchens met with some of the delegates during the 'meet the buyer' event to hear their thoughts about the mission.
Watch this short video to catch an insight into the kinds of companies that took part:
Fashion and Lifestyle Trade Mission to Japan 2015: Full Video
Next steps towards this market
Are you in the fashion and lifestyle industry and think your products could do well in Japan?
Contact us today for tailored support and guidance on market entry.
Watch our recorded webinar to gain an in-depth understanding of both the Japanese and Korean fashion and consumer markets.
Test your product marketability in Japan by selling online first. Download our guides to selling via Amazon Japan and Laso.
Published 8 January 2016