World news story
British experts share experiences in the development of public-private infrastructure in Guatemala
Experts from the United Kingdom held a seminar on the development of infrastructure, including the Public Private Partnership (PPP) concept.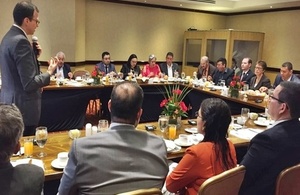 The activity was directed towards deputies, journalists, staff of the National Agency of Partnerships for the Development of Economic Infrastructure (ANADIE), press and representatives of academic institutions.
The event was held within the framework of the prosperity agenda promoted by the British government in the Central American region, and aimed to share the experiences of the United Kingdom in the planning, execution and financing of infrastructure.
The training is expected to support the Guatemalan authorities in promoting this method of public infrastructure development, which is governed by the Law of Partnerships for the Development of Economic Infrastructure (Decree 16-2010). These regulations are overseen by ANADIE which currently supervises six projects under the PPP model.
The seminar was given by officials of the United Kingdom's Infrastructure Projects Authority (IPA), which is the centre of excellence within the British Government on infrastructure and projects, who have also visited Honduras and El Salvador.
About the trainers
The trainers were James Ballingall and Javier Encinas. Ballingall is International Head of the IPA, and has led the Cross Whitehall Global Infrastructure Program, designed to produce international versions of the methodologies used in Britain as a way of training foreign officials on infrastructure issues.
Encinas is the Project Director of the International Finance Unit of the IPA. He has extensive experience in corporate finance and project management.
The IPA has advised more than 30 governments around the world in the development and implementation of issues related to planning and financing of public infrastructure projects under the PPP model.
Published 13 March 2018