World news story
British Experts from UCL trained Uruguayan Police Officers
They offered a course on Problem Oriented Policing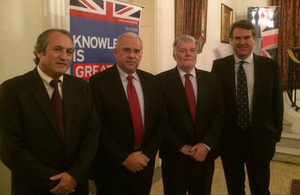 Professor Richard Wortley and Doctor Sylvia Chener from University College London trained Police officers on Problem Oriented Policing from 4-15 May 2015 at the Higher Studies Police School.
This course was the second part of an ongoing collaboration that started in 2013. Last year, Uruguayan police officers travelled to the UK to learn about this approach to crime reduction.
The programme aims to find solutions to problems Police face on a daily basis by looking into the contributing factors that led to a crime being committed. Prof. Wortley said that Police Officers are key to the process of coordinating every actor involved in solving problems, from business owners to city residents.
The premise of this idea is that certain crimes do not happen by chance, instead, there are often patterns of specific times and places.
This approach works best in repetitive incidents, such as mugging and domestic violence. By studying the reasons behind the repeated crimes it is possible to prevent them, explained Prof. Wortley. "But for that, community involvement is vital."
The British Ambassador, Ben Lyster-Binns, hosted a reception in his Residence in Prof. Wortley and Dr. Chener's honour, which was attended by National Police Director Inspector Julio Guarteche, other authorities and Police Officers who attended the course.
Published 21 May 2015