World news story
British experts from Catapult Satellite Applications present new satellite technology in Peru
Satellite technology boosts agriculture, mining, fishing and local urban development.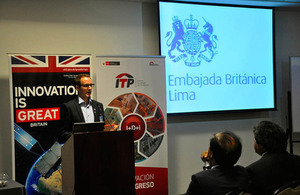 On 1 March, the Vice Minister of SMEs and Industry, Carlos Carrillo Mora, inaugurated the workshop "Exploring the Use of Satellite Technology in Different Markets" organised by British organization Catapult Satellite Applications, the Technological Institute of Peru (ITP) and the British Embassy, ​​with the support of the Ministry of Production.
The team of experts from Catapult Satellite Applications (leaders in the research, development and transfer of satellite technologies), presented the results of the pilot project in which images and satellite applications are used to improve the agricultural competitiveness of grape fields in the region of Piura.
Satellite technology can help the agricultural sector to monitor more efficiently crop growth, identify peaks in productivity, detect and monitor pests and analyse the response of crops to climatic variations. It was also discussed the opportunities and potential use of satellite technology in other sectors such as mining, fishing and urban development.
The pilot was developed as part of the "Improving Food Security and Agricultural Competitiveness in Peru" project, funded by the British Embassy and implemented with the collaboration of ITP. Over the past year, the Embassy committed $1.5 million to science and innovation projects in Peru.
Published 21 March 2016