World news story
British expert visited Ecuador to analyse security issues
Steve France-Sargeant, International Advisor from the College of Policing, visited the country to analyse and make suggestions on Community Policing and Emergency Response Services.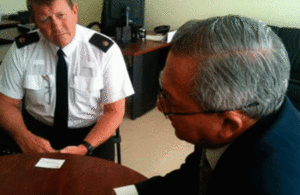 During the week from 3 to 7 June, Steve met representatives of the Ministry of Interior and officers in charge of Community Policing to better understand Ecuador's situation. He also shared the British experience and community policing model, and made suggestions on how to address the issues identified during the visit. The Ministry of Interior was pleased with the outcomes of the visit.
After finishing the visit about Community Policing, Steve carried out several activities along with the newly established ECU 911 emergency response system from 10 to 13 June. He visited the emergency response centres in Quito, Ambato and Guayaquil, met authorities and staff of the centres, shared the British experience on emergency response and also made recommendations on how to address certain issues, particularly legal, operational and administrative issues.
The representatives of ECU 911 also expressed their satisfaction with the results of Steve's visit.
Published 26 June 2013