World news story
British expert in city planning leads seminar in Santiago
Greg Clark, a professor from University College London, participated in seminar organised by the Chilean Chamber of Construction.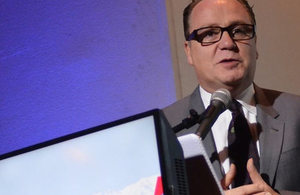 The Chilean Chamber of Construction organised on Wednesday 2 December the seminar 'Growing cities: The challenge of planning for inhabitants'. The event's keynote speakers were Greg Clark, professor at University College London and Marcial Echenique, former dean of the School of Architecture at Cambridge University. During the event, the internationally recognised experts shared their views about the benefits of city planning through densification and extensions.
Greg Clark is an economist and city planning expert from the University of Cambridge, University of Columbia, and the London School of Economics. From 2008 to 2014 he was chairman of the International Advisory Board of the New York Regional Plan and the Sao Paulo Strategic Plan. He is Senior Fellow of the Urban Land Institute (ULI), Chairman of the OECD LEED Forum on Local Development and Investment Strategies, and Professor of University College London.
Further information
For more information about the events and activities of the British Embassy in Santiago, follow us on:
Published 7 December 2015