World news story
British expatriates - "It's your vote, don't lose it"
The UK Electoral Commission has been running an international campaign to encourage British citizens living overseas to register to vote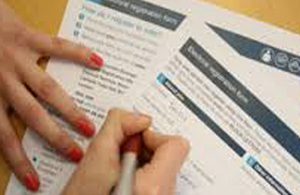 With just weeks to go before the European Parliamentary elections on Thursday 22 May, the Electoral Commission has launched an international campaign to encourage British citizens living overseas to register to vote.
"Many of those living overseas do not even know that they may be eligible to vote in some UK elections, so it's important that our campaign is as far-reaching as possible. This is why we are urging expats to take five minutes on Overseas Registration Day to visit British citizen living abroad and make sure they will be able to have their say." said Samantha Mills, Head of Campaigns at the Electoral Commission.
Every British citizen who has been registered to vote in the UK within the last 15 years is eligible to vote in UK Parliamentary general elections and European Parliamentary elections. Those who were too young to register when they left the UK can still register as an overseas voter as long as their parent or guardian was registered to vote in the UK in the last 15 years.
Expats are being urged to visit British citizen living abroad where they need to download, fill in and return a registration form by Tuesday 6 May if they wish to exercise their right to vote. People living in the UK are also being asked to spread the word amongst their friends and family living overseas.
It is also important for people to think about how they are going to cast their vote. Ballot papers can be sent overseas but voters must think about whether they have time to receive and return these papers by polling day. Those who think they might not have time may want to consider voting by proxy. This involves nominating a person they trust in the UK to vote on their behalf.
Published 29 April 2014