British engineers help locals rebuild Helmand 'Stabilisation Bridge'
Local people had expressed their concerns to the Scots Guards over the state of the old bridge, which had serious cracks running the length …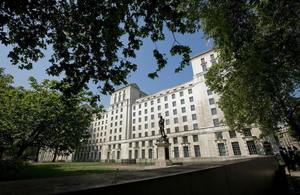 Local people had expressed their concerns to the Scots Guards over the state of the old bridge, which had serious cracks running the length of it, and so, along with 4th Armoured Engineer Squadron, they built the new bridge.
The 'Sobaat Bridge', translated in English to 'Stabilisation Bridge', is a vital and important enhancement to the quality of local people's lives in Lashkar Gah, enabling them to move across the wadi safely so that they can transport goods and go about their daily lives with ease.
It is part of a larger engineering project to improve the main route between Lashkar Gah and Gereshk to the north of Helmand province.
The build has taken almost eight weeks, with Sappers from 4th Armoured Engineer Squadron, part of 21 Engineer Regiment, and local contractors providing the labour. It has been constructed so that it will not be submerged by the flooding of the wadi, a seasonal occurrence which is part of the crop cycle for the Chah-e Anjir river basin.
Captain Joseph Wood, the Royal Engineers officer in charge of the build, said:
The old Soviet-built bridge is falling apart and there was a chance it may have collapsed with someone on it.

This new bridge will last for up to fifty years and can take even the largest vehicles. This has been a really worthwhile project for my team.
Along with the mayor, 12 local elders in the Basharan area attended the bridge-opening and listened intently to what Mayor Daoud had to say as they surveyed the new bridge.
Mayor Daoud has been in office for over six months and this is his first major visit outside Lashkar Gah.
A shura immediately followed the event with the elders now engaging with the mayor more directly. As it is Ramadan, food and drink could not be offered but turbans for the attendees were provided by way of gifts.
The bridge isn't just a way for the locals to move about, it is a symbol of the strength of the Afghan Government in making the lives of local people better.
The men and women of the 1st Battalion Scots Guards Battle Group watched the event from their security cordon surrounding the bridge.
Providing security for such an event is standard procedure but was hardly necessary as the locals are enjoying a level of peace that was unimaginable prior to Operation MOSHTARAK six months ago.
Published 6 September 2010