World news story
British Embassy Washington celebrates Benjamin Franklin House
Ambassador Peter Westmacott recognizes the work of the Benjamin Franklin House to restore the American founding father's London home.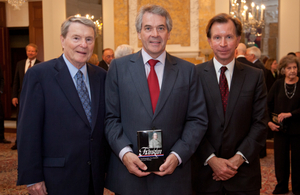 British Ambassador Sir Peter Westmacott celebrated the Benjamin Franklin House, a UK museum that was the home of American founding father Benjamin Franklin, with guest of honour Jim Lehrer, executive editor of PBS Newshour, with a reception at his residence.
Located at 36 Craven Street in London, the house served as the first de facto American Embassy, welcoming a number of visitors, including Thomas Paine, William Pitt and Winston Churchill. Franklin's diplomatic efforts in London created the foundation for the 'special relationship' between the United Kingdom and the United States.
"Benjamin Franklin, himself an Anglophile, would have been delighted with the way things between the US and the UK have progressed since then," said Ambassador Westmacott. "Today, we are among the closest allies in the world. The Benjamin Franklin House is an important piece of history, representing the UK-US relationship."
The Benjamin Franklin House Foundation works to preserve the House and provide programmes which support Franklin's legacy as a diplomat, scientist and thinker.
The Benjamin Franklin House opened to the public in January 2006, on Franklin's 300th birthday. Since opening, the museum has welcomed over 60,000 visitors. The museum at 36 Craven Street (WC2/in the West End) provides history on Franklin's time in London as a diplomat.
Published 17 May 2013