World news story
British Embassy Vientiane celebrates official opening
As part of the celebrations, the Embassy played host to past Lao recipients of the Chevening Scholarship programme.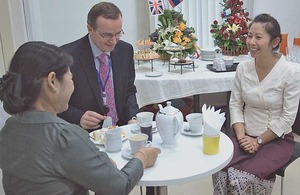 To kick off the opening of the new British Embassy in Vientiane, Ambassador Philip Malone invited past Lao recipients of the Chevening Scholarship for a traditional British afternoon tea on Wednesday 4 April.
The Chevening Scholarship is the UK government's global scholarship programme, funded by the Foreign and Commonwealth Office (FCO) and partner organisations. The programme makes awards to outstanding scholars with leadership potential from around the world to study postgraduate courses at universities in the UK.
To date, 24 Lao scholars have received the prestigious scholarship and the new British Embassy in Vientiane was happy to host these individuals who have studied across various fields including international relations, diplomatic studies, economics, media and communications, and international finance at universities around Great Britain. The programme provides full or partial funding for full-time courses at postgraduate level, normally a one-year Master's degree, in any subject and at any UK university.
Ambassador Malone commented:
With a resident embassy now fully- functioning, we look very forward to hosting more gatherings for our alumni network who have returned from the UK to work and contribute back to their home country.
Past Chevening recipients in Laos have gone onto work in the Ministry of Trade and Industry, the Ministry of Education and Sports, and UNICEF, among others, and occupy such positions as Vice-Governor of Vientiane Province and Secretary General of the Lao Youth Union.
Viratsamay Vissonnavong of the Unexploded Ordnance Unit of the UNDP said:
The courses in the UK provided me with the opportunity to obtain global perspectives of development issues in a diverse society. This rich exchange of ideas and philosophies has stimulated my knowledge in work related to my specialisation.
The Chevening programme began in 1983 and has developed into a prestigious international scheme. Chevening Scholars come from over 116 countries worldwide (excluding the USA and the EU).
Applications for the Chevening Scholarship for the 2014 - 2015 academic year will open later this year. Any Lao applicant who has the minimum of a Bachelor's degree, a strong level of English, a minimum of two years' work experience, and who feels they have leadership potential are invited to apply.
Visit the British Embassy Vientiane's website for more information.
Further information:
For more information, please contact: Megan Knight (English, French) or Sililuck Simookda (Lao) Phone: +856 30 777 1065 Email: bevientiane@gmail.com
Published 9 April 2013