World news story
British Embassy Tokyo call for bids: third country business specialist
We are inviting interested parties to submit bids for the provision of a third country business specialist. The deadline for bids is extended to 1600 on 2 August 2018 (Japan time).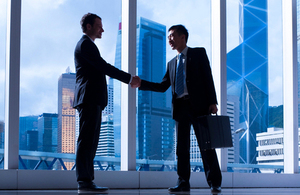 BACKGROUND
DIT Japan launched the Third Country Business project in November 2017. The objective of the Third Country Business Project was to research and to understand the current status plans of the Japanese infrastructure exports; and to assess the UK opportunities over the next 6 months. DIT Japan focused on this project by recruiting a designated temporary staff for this position.
The successful project report with next action plans confirmed a possible prospect for UK-Japan collaborations in the products of the third countries. Hence, the DIT team has decided to continue their efforts to run more output-focus activities and to explore/research further in other regions outside ASEAN and other business areas which were not initially the focus.
DETAILS OF REQUIREMENT
To analyse and implement recommendations for the UK-Japan collaboration opportunities in Africa, South Asia and Middle East for their infrastructure projects.
To identify and engage with the 10 most opportunistic Japanese infrastructure projects in 3rd countries where UK companies can implement their products and services and contribute to achieve business wins.
To support the successful delivery of UK-Japan 3rd Country Business Forum and help participating UK companies to achieve their objectives.
To develop relationships with new stakeholders, in particular Japanese potential buyers (at least 30 companies) and maintain relationships with existing contacts.
To handle day-to-day enquiries/work related to business normally done by DIT Japan's Trade Advisor. (Commuting to the Embassy is required, although some home working is acceptable, subject to circumstances.)
To find out more, including how to bid, please download the Request for Quotes (PDF, 885KB, 19 pages) . If you have any queries, please contact APAC.Procurement@fco.gov.uk.
Published 7 June 2018